Colocation New York, 60 Hudson Data Center In NY | Colocation America
With a consistent track record for providing the best colocation services in New York, Colocation America can help your business serve important East Coast markets with reliable hosting solutions. Our data center is centrally located in the historic 60 Hudson Street (60 Hudson Building) Western Union Building which serves as a strategy connection point for the largest IP carriers in the world. With its combination of premier infrastructure, strategy market location and extensive data backup features, New York colocation in our 60 Hudson Data Center is a logical choice for firms targeting East Coast markets.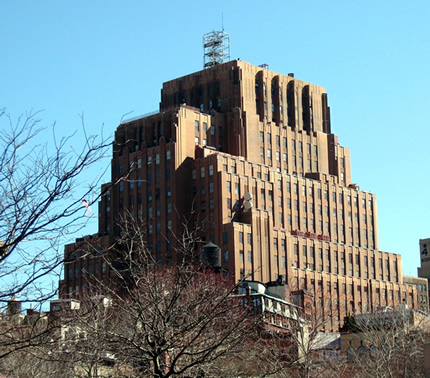 "Why Colocation in New York?"
Colocation in New York accommodates any business with the advantage to leverage publicity within new markets while dramatically decreasing the setup and maintenance cost of a secure network infrastructure. Our New York Data Centers offer a wide variety of service options, including: colocation hosting, dedicated servers, and VoIP services.
Based in Lower Manhattan, 60 Hudson Street is one of the most densely-packed network hubs on the Internet. When finding any data on the web, it's most likely that it passed through this data-center behemoth.
The 60 Hudson Data Center is a converging point of colocation services for a number of clients and advanced low-latency interconnectivity to over 100 carriers, ranging from application providers, to financial enterprises, to multiple private enterprises.

Most notably, the 9th floor of 60 Hudson features a 15,000 square foot facility known as the Meet-Me-Room, a focal point of multiple layers of local, national and global fiber optic cables. This is where each company's server equipment resides, as well as a litany of interface terminals, allowing our colocation units to connect to other networks. This is a physical hub of the Internet, essentially a gigantic Ethernet switch.
Colocation America leverages 60 Hudson as well as other state of the art data centers within the New York area for clients looking for reliable hosting services with dedicated support.
Fully Managed Colocation Hosting
With over a decade of experience in managed colocation hosting, our New York engineering staff is certified to provide 24/7 monitoring, security and configuration for your servers. Our flexible, state of the art data center has the latest security, power and hardware configurations which can be custom designed to meet your business needs. If you're looking to jump-start your New York presence, we have the technical and personnel solutions to make it happen.
Our IP connectivity gives you access to improve data deployment speeds, and our custom colocation setups can be built to your specifications. Whether you want to serve the East Coast, Manhattan or broader US market we have a proven track record of offering reliable colocation services to enterprise level firms, startup businesses and media companies by providing core advantages over our competition.
Benefits of Managed Colocation Hosting
Consider the benefits of managed colocation hosting. Managed colocation hosting is usually the standard choice for dedicated server owners. And, with the rise of cloud computing, this means that the cloud can be combined with colocation management, ensuring that at any given time, your site or application will be operating smoothly and be accessible, regardless of the amount of resources demanded by your business.
Colocation hosting provides secure regular backups, all maintained on a separate server from which you can seamlessly restore them. You can even run the site or application from a backup server in the event of a security breach or server crash. At Colocation America, our single server & partial rack colocation packages are flexible, fully managed services & can be tailored to meet your specific needs.
Flexible Storage and Bandwidth Solutions
With our state-of-the-art data center in 60 Hudson, we offer the flexibility, price competitiveness, and scalability your firm needs to grow, expand and adapt to changing technology needs. Colocation hosting is a popular solution because of the time and cost it can save your business by using shared data center infrastructure. Some of the prominent customers of colocation:
Web commerce businesses - Provides a stable, cost effective system, and multiple connections to the Internet
Major enterprises - Provides backups and security for disaster insurance
Telecommunication companies - Provide services to exchange traffic with other telecommunication companies and have access to potential clients.
Whatever your needs may be, Colocation America has the right plan and pricing to fit your business needs and help you grow!
State of the Art Security
Colocation America's data centers house some of the world's most business sensitive information systems and IT infrastructures. Therefore, it requires a maximum level of both physical and virtual protection against any malefactor that can range from potential security threats to unforeseen natural disasters. Luckily, each of our data center locations are carefully monitored to withstand extreme weather events and prevent unauthorized intrusions from accessing your data center space.
We are constantly dedicated to providing our loyal clients with state-of-the-art secure environment that constantly ensures their critical systems and the data they contain are protected under a range of conditions. At Colocation America, our mission is to keep your business up and running in the midst of any hurdle.
Located near the nexus of financial and market activity for both consumers and firms, New York colocation puts your servers securely in the heart of commercial activity. The East Coast is one of the most concentrated business areas for market movers, consumer demand and media consumption. Therefore, having a collocated server in the region helps you reach your target audience faster and more efficient.
Data Centers in New York:
60 Hudson Building - 60 Hudson Building New York, NY 10013
Colocation America leverages state of the art data centers within the New York area for clients looking for reliable hosting services with dedicated support. Colocation in New York gives businesses the ability to maximize exposure to new markets while lowering the cost of setting up a secure network infrastructure. New York Colocation offers a variety of services including: colocation hosting, dedicated servers, and VoIP services. Colocation America also provides colocation services near the New York area including
Colocation Manhattan, 10021
Colocation Bronx, 10463
Colocation Brooklyn, 11204
Colocation Long Island City, 11102
Colocation Sunnyside, 11104
Colocation Flushing, 11355
Colocation Bayside, 11359
Colocation Fresh Meadows, 11365
Colocation East Brunswick, 08816
Colocation Woodhaven, 11421
Colocation Ridgewood, 11385
Colocation Red Hook, 12507
Colocation Middle Village, 11379
Colocation Chalfont, 18914