VoIP Dedicated Server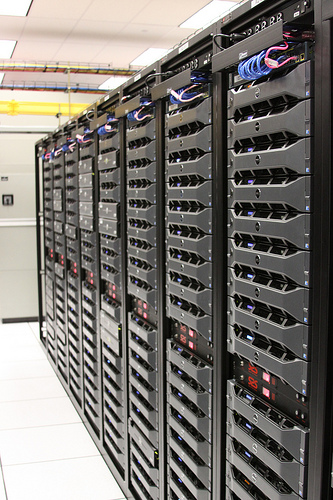 Seeking a dedicated server for VoIP hosting? We can lease you a private VoIP server with the hosting space and support backed by certified IT technicians. Once you select a hosting plan, we can recommend a VoIP software provider that we have partner up with to complete the setup.
Colocation America has teamed up with the top VoIP software providers to offer a one-stop VoIP hosting shop. We have the VoIP dedicated server and hosting space available to support a wide variety of VoIP platforms. Our partnerships enable our clients to transform a dedicated server into an enterprise grade system so that they can start a VoIP business with very little difficulty.
VoIP is one of the most popular voice communication technologies that has emerged from wide spread use of internet services throughout the past decade. One such provider of voice over IP communication is Skype, which utilizes a cluster of VoIP dedicated servers to provide IP calling services to its customers as well as other forms of communication such as video chat.
What Can I do with a Dedicated VoIP Server?
A dedicated VoIP server includes various features that allow businesses to route large volumes of cheap calls to anywhere in the world. A VoIP dedicated server provides an affordable alternative for intra office or long distance calls. Companies that focus on international markets can benefit from lower monthly phone bills since VoIP technology costs far less than traditional land line calls.
Pricing for our Start-up Server Packages are listed below:
Calling Card Solution
RAM
Specs
Bandwidth
Setup

VoIP Server Special - $99/mo

4 GB
Dual Xeon,
2 x 73GB HD
10,000 GB
Free Setup

VoIP Start Up Server (up to 30 Simultaneous Calls) $199/mo

8 GB
Dual Xeon 3330,
160 GB HD
10,000 GB
Free Setup

VoIP Medium Enterprise Server (up to 100 simultaneous calls) $249/mo

8 GB
Dual Xeon 3330,
2 x 250 GB HD
10,000 GB
Free Setup

VoIP Enterprise Server (up to 150 simultaneous calls) $399/mo

16 GB
Dual Quad Core,
2 x 500 GB HD
10,000 GB
Free Setup

VoIP Provider Server (150+ simultaneous calls) $499/mo

32 GB
Dual Quad Core,
4 x 500 GB HD,
RAID 1
10,000 GB
Free Setup

VoIP Power Server - $599/mo

32 GB
Dual Xeon X5450,
4 x 1 TB HD,
RAID 10
10,000 GB
Free Setup
"10,000 GB of premium bandwidth (55% Peered) transfer on a dedicated 100Mb port"
Ready for a VoIP Dedicated Server?
Colocation America has a simple 3 step process for starting a VoIP business.
Pick a VoIP hosting package from the above table.
Select from our list of certified partner and choose the VoIP software you need for your business.
Looking to host a dedicated VoIP server in Los Angeles? You can read more about the benefits of hosting your VoIP system on our Los Angeles VoIP services page.
Software and Solutions for a Dedicated VoIP Server
Available VoIP software options include:
VoIP Hosted Softswitch
Calling Card Software
IP Centrex
VoIP PBX Hosting
VoIP Billing
IP IVR
DID Services
SIP Trunking
Predictive VoIP Dialer
Least Cost Routing
Mobile VoIP
For a more detailed list of available software and solutions to improve your server performance visit our VoIP software and solutions page.
Colocation America's Certified VoIP Partners
Leasing a VoIP dedicated server is the first step to providing an internet-based calling service for low rate calls. The next step is obtaining compatible VoIP software to transform the server into a platform capable of handling and routing voice communication over an IP network. Colocation America has partnered up with top software providers to offer a one-stop shop service for VoIP businesses.
VoIP Software for a Windows Based Server
IPsmarx - Customizable solutions for VoIP service providers. IPsmarx hosted softswitch and calling card software can transform a dedicated server into a dedicated VoIP server with the ability to provide SIP trunking, direct DID, multi-tenant IP-PBX, and support for up to 240 simultaneous calls.
VoIP Software for a Linux Based Server
Kolmisoft MOR - The advanced Kolmisoft MOR VoIP billing software allows VoIP service providers to properly manage their VoIP service offerings and clients' accounts. Kolmisoft also provides hosted softswitch solutions and calling card software along with VoIP batch auto-dialer for large outbound calling.
Asterisk - A free and open source framework solution for the development of communications application. An asterisk dedicated server is a powerful platform for corporate VoIP needs. Asterisk provides the base software necessary for IP PBX systems, VoIP hosted softswitch, enterprise level conference servers, and a variety of other VoIP related software.
VoIP Telephone Hardware and SIP Soft Phones
888VoIP - A hosted IP PBX solution is only as good as the hardware it is hosted on. 888VoIP provides a complete list of available VoIP enabled telephone systems that work in sync with your hosted IP PBX solution. Gear up and save money on your VoIP calls. 888VoIP has tons of telephony hardware to create a custom hosted VoIP PBX system for your business.