Two Steps in Choosing Carrier Neutral Los Angeles Colocation
November 30, 2010
Stabilizing Your Business with IP Transit
December 10, 2010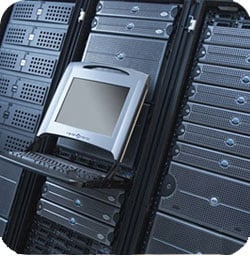 A dedicated hosting plan can be a valuable asset to a business that generates revenues or exposure through online applications. Many organizations today have a need for their own servers to run mission-critical applications and enjoy a level of performance that simply cannot be obtained in a shared hosting arrangement.  By leasing your own server, you can count on better reliability, flexibility, security and administrative authority that give you much greater control over your web presence.
However, these benefits can only be obtained when choosing the right company to provide you with dedicated hosting service.  With that in mind, here are some key factors you want to consider when shopping for dedicated hosting.
Hardware Upgrades
When it comes to dedicated hosting, there are essentially three major components that require upgrades: your hard drives, RAM and processors.  These vital elements are usually what determine the performance and availability of your applications.  Because dedicated hosting isn't like co-location where you own your servers, it is up to the provider to perform these upgrades upon your request or in a situation where they are required.  A good company will work with you to discuss when any upgrades will be made, as well as an estimate of how much, if any, downtime will be incurred.  Having a dedicated host that will openly communicate with you makes it easier to keep your website up and running and your visitors content.
Adequate Bandwidth
A dedicated hosting provider needs to be able to efficiently allocate the amount of bandwidth that all their clients require. Companies that operate out of their own data center facility are better suited to ensure sufficient bandwidth, as they generally have the ability to adequately supply you with the bandwidth and other critical resources you need.  It advisable to speak with the provider regarding your specific requirements to determine how much bandwidth you need and avoid costly overages.
Technical Support
Every client has unique requirements specific to their business.  Some need little to no assistance with their dedicated hosting package, while others require aid with server administration and other managed services.   Whatever category you fall in, be sure to find a host that can deliver support that falls in line with the best interests of your organization.
In closing, a dedicated hosting provider should have what it takes to effectively meet the needs of your business.  Hardware, bandwidth, and support are areas you need to feel comfortable with when putting the fate of your online presence in the hands of a third-party company.
For more information contact Shawn Ahdoot