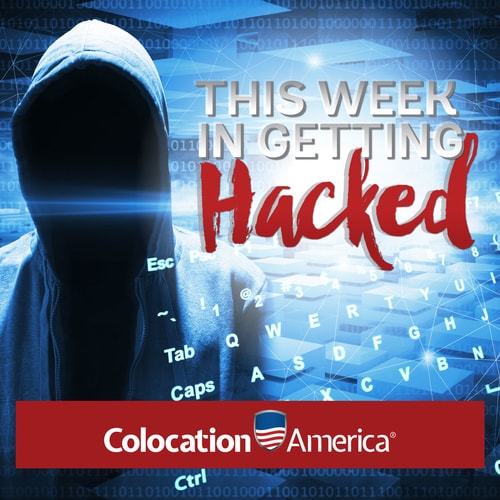 This Week in Getting Hacked: Don't Plug in That USB Edition
April 13, 2016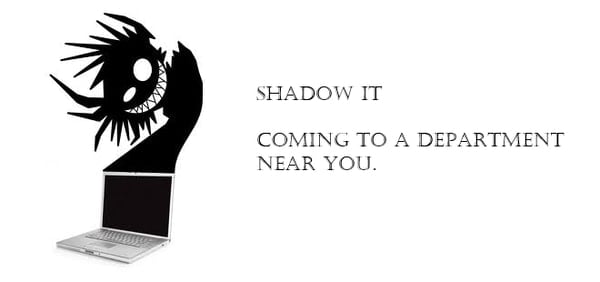 How to Fight Shadow IT in Your Organization
April 20, 2016
---
Chris     
WE UP HERE TALKIN' BOUT GHOSTS. GHOSTS! Demons and sh*t, mang
Q.C.     
GHOOOOOOSTS
Samantha     
We can all agree that ghosts are real, right?
Chris     
Woah! Lots of assumptions there. You got proof?
Samantha     
Totally. I mean, maybe.
Chris     
I demand proof of ghosts or other-worldly beings before I believe.
Q.C.     
I don't disagree that there could be ghosts, especially in areas in which death happened quickly and often
Samantha     
When I was in high school there was the ghost video in the car commercial – did you ever see it? This is the only piece of evidence you need
Q.C.     
Interesting. I'm sold. Let's go hunt them
Chris     
Oh, that old gag? I ain't falling for that screamer stuff, I want real proof
Q.C.     
Like Casper. I've seen some shows
Samantha     
Real proof? Like all the reality TV shows? Favorite ghost hunter show?
Q.C.     
I forget what it's called but it has some guy named Kevin in it and he's cool
Chris     
What's that one where they insult the ghosts? Ghost Destinations? Ghost Adventures?
Q.C.     
Oh, Crank Yankers
Chris     
Yep, Crank Yankers haha.
Samantha     
Ghost Adventures, I think
Chris     
Ghost Adventures! Those guys had like one good episode then it all went to crap
Q.C.     
I'm actually not that big into Ghost shows
Samantha     
Well after a while it becomes the same thing
Q.C.     
Hahahaha it's like those Bigfoot shows. They go to commercial and the preview something like they actually found something and then NOTHING EVER HAPPENS
Chris  
Have either of you ever had a ghostly or paranormal encounter?
Samantha     
No judgement – yeah, I think I have
Chris     
I would love to hear the story, Sam.
Samantha     
Senior year of college was crazy with paranormal things for me. It's pretty boring, but he main story goes like this: I had just graduated with my undergraduate degree and that night I kid you not, my great aunt that passed away visited me
Chris     
Woah…
Samantha     
Like woke me up – she looks exactly like my Grammie
Chris     
Did she congratulate you? Because otherwise, that's pretty rude of a ghost
Samantha     
Yeah and said she was proud
Chris     
Wait, for real?
Samantha     
I asked my Grammie the next day if she game into my room and apparently she didnt
Q.C.     
That's so weird
Samantha     
And then there was a creepy guy in a hat but I am pretty sure that one was just after too many drunk nights
Q.C.     
I think you may be possessed
Samantha     
That would explain a lot…
Chris     
I can't get past the idea of a ghost coming back and being like, "OoooOOOoooOOOoOO….congratulations on your graduatiOoooooOOOOooon"
Q.C.     
Hahahahhahahahahahha you think they'd talk normally or with some reverberation?
Samantha     
Well she was completely just normal – nothing crazy about it which is why it was creepy
Chris     
There has to be some reverb in the spirit world. Dimensional static or something, ya know?
Q.C.     
Yeah, dimensional static is something I studied in college
Chris     
Q—got any ghostly encounters?
Q.C.     
Nope.
Chris     
Ok cool.
Q.C.     
My sister has a story, though, that she is 100 percent sure about
Chris     
Yeah?
Q.C.     
It's the most convincing ghost story I've ever been told, just because of how terrified she looks at the mention of it. It's not like a frightening tale or anything
Samantha     
She just looks scared when she tells it?
Q.C.     
She just said she was a kid and heard noises downstairs (my house was built in 1917) and she went down there and she said that there were people having a party. Like really pale people that seemed to be glowing
Chris     
Like the Haunted Mansion at Disneyland?
Q.C.     
And they just told her politely that she needed to go back to bed
Chris     
Wait…so they come in to YOUR house, throw a party, and then act all rude once someone wakes up and tells them to shut up?
Q.C.     
That's what I picture when she tells it. Although we went to Disney years after this allegedly happened, so
Chris     
Ghosts are so rude.
Q.C.     
Yeah, that's basically it
Chris     
That's actually pretty freaky
Q.C.     
But she is terrified to tell it. Like legitimately gets upset if you bring it up because she wants to forget it and it happened to her like 25 years ago
Chris     
Were they drinking BOOze?
Q.C.     
HAAAAAA </review>
Samantha     
Chris – have you ever had any? You seem to be skeptic in the crowd
Chris     
One time, according to my ex-girlfriend, I woke up in the middle of the night screaming, "Get the hell out of here!" When she asked what I was yelling at, apparently I pointed to the corner of the room and said, "Him."
Q.C.     
You just scared away a murderer or burgler—anything
Samantha     
So now we know your crazy but what about ghost encounters?    
Chris     
Ehhh, nothing really spooky or anything I'd attribute to a ghost. Mostly just knocks and noises that can be traced to living in an old ass house
Q.C.     
Yeah that's it. I think living in an old house helps with being skeptical
Chris
I do get spooked easily though. I'll admit that. Dark basement and no lights? F that noise. Spooky unlit hallway in a hotel? NOPE.
Q.C.     
Hahahahahhaha so the possibility of ghosts scares you?
Chris     
Totally
Samantha     
But ghosts aren't even the best "supernatural" being. Have you ever seen Halloweentown?    
Chris     
The ABC Family movie Halloweentown?
Samantha     
Excuse me it's a Disney movie (which is like the same thing but still)
Q.C.     
I've never seen that 🙁
Samantha     
You should watch it! It is the best group of supernatural beings. The ghost sweats and there are trolls (cute ones)
Q.C.     
Is that your favorite ghost movie?
Samantha     
I don't know if you could call it a ghost movie but an amazing movie yes
Chris     
Ok–favorite ghost or paranormal movie?
Samantha     
Oh good question
Q.C.     
Amityville Horror
Chris     
Oohhh, good one
Q.C.     
The 2004 with Ryan Reynolds.
Chris     
Paranormal Activity, for me. That first one was…wooooooo
Q.C.     
Oooooooooooooo yeah that's a great one too. I'll be honest though, that genre is pretty far down on my list though
Chris     
Fun fact: at the end of Paranormal Activity, there's that title card that is like, "Nobody has seen Jessica since…" and a guy in my theater was like, "OH HELL NAW!"
Q.C.     
Hahahhahahahahahahahahahahahahahhahaa oh hell naw!
Samantha     
I like B Horror Movies. I can't even think of a good ghost/paranormal movie right now. I do love Thirteen Ghosts, though.
Q.C.   
My fiancé loves thirteen ghosts
Samantha     
Way to use "fiancé ". The story and the whole like being stuck in a house with ghosts is awesome
Q.C.     
Yeah. The first season of American Horror Story was excellent too
Samantha     
The whole series is pretty epic. What is your favorite "supernatural" being?
Chris     
All-time? Either the Jersey Devil or Spring-Heeled Jack
Samantha     
Say what?
Q.C.     
The Thing from John Carpenter's The Thing
Chris     
https://en.wikipedia.org/wiki/Spring-heeled_Jack
Ya boi out there jumpin' around London terrorizing people with laser eyes and claws and sh*t
Samantha     
It is officially recognized – I love England
Chris     
What's yours, Sam?
Q.C.     
That's more of an alien though. The Thing that is
Samantha     
As a kid I would have nightmares about vampires. But overall favorite has to go to shape shifters–I don't know but it just seems kind of awesome
Chris     
Oh snap are we about to talk about skinwalkers?
Q.C.     
Hahahaha we sure are
Chris     
Listen, if there's one thing that truly scares me, it's Native American paranormal entities
Q.C.     
Animorphs, b*tches
Samantha     
Yep! The ability to be both animal and human (of course this requires to separate the two)
Q.C.     
Oh hell yeah. That stuff is straight up real. The Natives were so in tune with nature and the spirit world
Chris     
For some reason, I give tons of authority to Native American traditions in regards to the supernatural, especially considering my wide skepticism and skinwalkers are the top of that list
Samantha     
It's because its oral history. These stories haven't changed, ever. It has been real
Chris     
That's the thing–they don't change at all
Q.C.     
I'd rather try and fight off an alien invasion like in Independence Day rather than face one skinwalker
Samantha     
Really, Q? I don't know about that one haha
Chris     
And the encounters I've read about are all people like, "My grandfather is the toughest dude I've ever met in my life, but we don't talk about skinwalkers around him."
Q.C.     
Read up on a skinwalker then come back to me. Jeff Goldblum has nothing on a skinwalker
Samantha     
So ghosts we are unsure about but skinwalkers are real, right?
Chris     
A place to post your personal experiences, thoughts, or stories you have found about skinwalkers and similar legends.
Q.C.     
That's the gist of it, Sam. That's how I feel, at least. I wouldn't necessarily consider them ghosts, though
Chris     
I don't mess with anything Native American's don't mess with
Q.C.     
Alcohol?
Chris     
Blankets from strangers
Q.C.     
Hahahahahha
Samantha     
A politically correct statement is coming – please stand by
Chris     
Hahahah. The views expressed in this review don't reflect the views held by Colocation America, or something.
Samantha
Correct.
Chris     
Is there a local supernatural or paranormal legend around your hometown?
Q.C.     
There's the lady in the white dress under the Horseshoe Curve
Samantha     
Local legends? I mean, I think people are more scared of the way they look in LA then in the supernatural
Q.C.     
(I won't bring up slinky's this time)
Samantha     
Someone died in the slinky factory, didnt they?
Chris     
They got turned into a slinky
Samantha     
Q–what's the story of the lady in the white dress?
Q.C.     
If you cover your car with any type of powder and drive through the tunnel under horseshoe curve after midnight she'll write a message on your car and you can hear her clanking things around, too
Chris     
Have you done it?
Samantha     
Have you done it?
Q.C.     
Yes. I've done it
Chris     
What did she write?
Q.C.  
Nothing happened
Chris   
LAME
Samantha     
I am sure you just didn't look hard enough
Chris     
Do you know anyone that's gotten a message?
Q.C.     
And the noises was just water falling from the cracks in the ceiling
Samantha     
I am sure it's hard to catch a moving car to write a message
Q.C.     
My friend Ryan Colmer said he did. He got "Help"
Chris     
Dude! That's pretty freaky
Q.C.     
Yeah. Who knows? I wasn't there
Samantha     
Were their cell phones back then? Did he take a picture and post it on Facebook? If he didn't, it did not happen. As with everything – if it's not on Facebook, it's not real
Q.C.     
Because I was always unsure about the structural integrity of that particular tunnel. That was the real scary part
Samantha
Makes sense.  
Chris     
Unsure if your hometown has a haunted place? Check this out….
Q.C.     
Oh that's pretty cool! There's a ton of stories hahahhaa
Chris     
There's a place called "Hell" near my hometown
Q.C.     
Discovery PA: The Legend of the Horseshoe Curve Tunnel Ghost
Chris     
"Reports of unexplained lights that don't shine; a short figure that has green eyes and a white hand on its left side; a little girl in a white dress that follows people; strange noises, feeling of being followed; outside one tunnel there's always rocks falling from the road even though the road is paved"
Q.C.     
Those tunnels, BTW, were just far enough below the tracks where you couldn't hear the train from outside, but obviously they cause the ground to shake a little and I think those are the noises people are hearing
Chris     
I've partied in "Hell" a few times and never experienced anything. I have felt mildly uneasy there though
Q.C.   
Hahahahahhahahahahahahahhahahahahahaha
Samantha     
Once again you two make PA sound fun
Q.C.     
It's a wonderful place. It's old. Real old. Second state to enter the US. Or the "Union" I guess
Chris     
Oh, also, at Pitt, the Cathedral of Learning is supposedly haunted
Samantha     
How so?
Q.C.     
I can believe that. Did a student die?
Chris     
It's old as sh*t, bunch of people either committed suicide or died. Again, one of the places I've felt uneasy being nearly alone at 11PM after a class lets out in the basement
Q.C.     
Hahahahahaha yeah creepy place for sure
Samantha     
Pitt is just setting you up for that when they put a class in the basement that late
Chris     
Right?
Samantha     
The University of Arizona has a ghost – Old Main's Ghost
Chris     
Nice. Did you meet him?
Samantha     
Nope. I dont even know many people that went into Old Main
Q.C.     
Does every campus have an Old Main? I feel like they do and they're probably all haunted too
Chris     
Totally
Samantha     
And I just discovered a whole website dedicated to mysteries at UofA
Q.C.     
Hahahaha that's awesome. How do you guys feel about Mummies?
Samantha     
Mummies are real – that isn't supernatural. They took bodies and mummified them
Q.C.     
Ok, zombie mummies. Mummies in the supernatural sense, you pedant
Samantha     
Like the movie, The Mummy (currently streaming on Netflix)?
Q.C.     
Similar, only more Scooby Doo-ish
Chris     
Easy to defeat. They're dead bodies wrapped in cloth. Fire, bruh.
Q.C.  
True!
Samantha     
Yeah, there are a lot of ways to kill those ones. As for the one in The Mummy – thank goodness for Brendan Fraser
Chris     
Ok, last question–when you die, do you want to come back as a ghost?
Q.C.     
No, sir. I want to come back as a housecat in a good, huge, house where nothing's expected of me
Samantha     
I mean, I wouldn't mind being a ghost for a bit
Chris     
If I was able to travel freely throughout this and the ghost realm, I'd like to come back as a ghost. However, if I'm stuck doing the traditional "repeat one part over and over again" aspect of ghost-dom, I'm out. LET ME LIVE WHEN I'M DEAD, BRO
Q.C.     
Hahahahhahahahahahha. I can't wait for Brendan Fraser's ghost
Chris     
If Brendan Fraser isn't mummified, we've all failed.
Q.C.     
Agreed
Samantha     
I love Brendan Fraser
Chris     
We know, Sam. We know.
Again, we didn't really review the supernatural, but one thing is for sure: We love Brendan Fraser. The Supernatural gets an A+ from us (just not the TV show…).