Women in Science, Technology, Engineering and Mathematics
Help us support Women in STEM…
Hey all, we're partnering this year with Arc Experience and Green Dot Schools at Animo Leadership Charter High School to bring students guest speakers for the Women in STEM program.
If you're unfamiliar with the Women in STEM program, it is an initiative to give women and young girls an opportunity to be educated about and pursue careers in science, technology, engineering, and match (hence, STEM).  Each Tuesday through March 18, there will be a different guest speaker at Animo Leadership Charter High School in Inglewood, CA.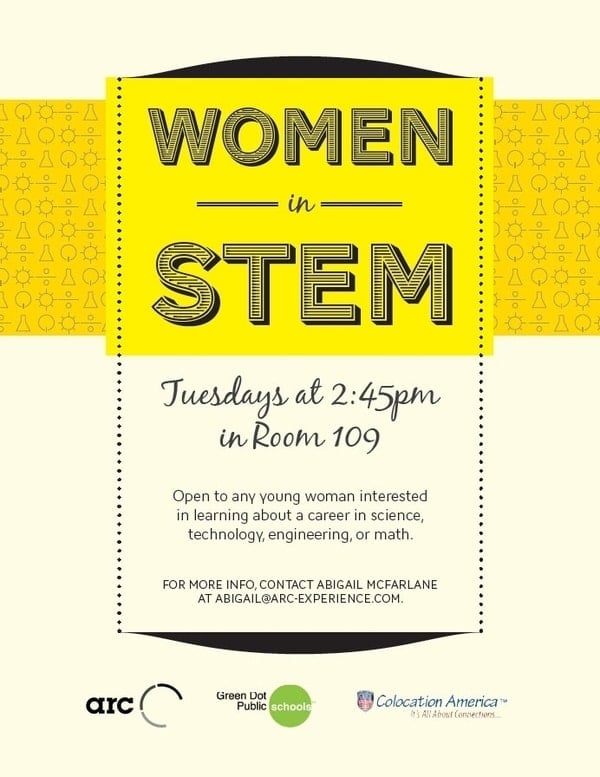 "We are pulling students from different afterschool clubs. Some of the students currently take Marine Biology afterschool, while others are enrolled in Chemistry and  Mathematics. The students are not greatly familiar with STEM, but are interested in gaining knowledge on STEM career options and learning about personal experiences in the related fields," a representative for Animo Leadership said.
Speakers will give an introduction about themselves, their chosen educational paths and how they got a career in a STEM field.  At the end, students have an opportunity for a little Q&A with the speaker.
For more information or to know how you can help, contact us here, or you can follow Arc Experience and Green Dot with the social media links below:
Arc Experience
Twitter:  @arcexperience
Facebook:  https://www.facebook.com/arcexperience
Green Dot Public Schools
Twitter:  @GreenDotSchools
Facebook:  https://www.facebook.com/greendotschools