Editor's Note: The original article (posted below the line) was published on February 28, 2012. An update on the subject matter was sorely needed….

Who needs a mega data center anyway? The answer is: big businesses. The larger the company, the greater their technological needs, and the more servers they require. Especially as more companies put their services on the cloud, they need the space to keep all that information.
What's New With Data Center Server Farms?
But mega data centers require hundreds of thousands of square footage to house the racks and racks of servers. Think about how many buildings are already up around Los Angeles. Where could we even fit a mega data center? So we're now looking toward the future: server farms.
You can usually find server farms in the boonies, where there's plenty of room for all the data space your heart desires. These facilities have space and cost on their side, because rural areas have land available for purchase at a fraction of the cost it would take to build the same thing in Los Angeles or Silicon Valley. Rather than keeping the data close to the users in multiple data centers, it's more cost effective to choose one place to house your data, even if it's in the middle of nowhere.
The Facebook Server Farm is in Santa Clara, California, which is only 25 minutes away from their headquarters. It holds tens of thousands of servers, which isn't surprising because the site serves millions of people on a daily basis. However, the company opened a mega data center in Prineville, Oregon, a town that's only 6.7 square miles with a population just over 9,000 people. The center is 120-acres large, LEED gold certified, and uses 38 percent less energy than the existing Santa Clara facility.
Google recently showed off their data center in Council Bluffs, Iowa, and a picture of the outside even shows a few deer. 115,000 square feet of space holds the data of YouTube, Gmail, and more. So while we wouldn't think the Midwest is home to anything advance tech wise, server farms are making us think twice about that.
---
Original:

Among the tall skyscrapers of downtown Los Angeles sits thousands of interconnected servers and networking equipment that are housed in the infamous One Wilshire data center. The center is the prime source of connectivity for the west coast and many businesses host their servers inside the tightly secured facility. Huge metropolitan cities like Los Angeles usually house several data center locations that provide a central hub for inter-connectivity around the world. These cities usually attract the construction of new colocation data centers because of the transit centers and communication hubs that are already present within the city limits. However, as time ticks forward and new needs arise, more and more small cities are sought after for new data center locations.
Server Farms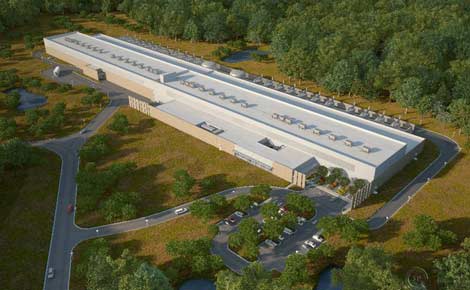 Mega data centers or server farms have sprung up within rural areas and small cities. These facilities are built to support cloud infrastructure and applications along with server backup for large social media websites like Facebook and Google. What makes these locations more attractive than metropolitan areas?
For starters, small cities have tons of space available for these new mega data centers. Large enterprises can build data centers that house many servers for a fraction of the cost compare to building them in metropolitan areas like Los Angeles. Cheap land isn't the only advantage as small cities provide great cooling benefits, an abundance of low cost power, and great tax incentives to keep the operating cost of these facilities down.
So does that mean that large metropolitan areas are soon going to be devoid of any data center hosting facility? As small cities provide a great location for these mega data centers, large cities are still a central place for hosting facility to stay connected. This means that data centers are not all the same. There are several different types of data center and small cities attract just one of these types.
Mega data centers are huge facilities that host a plethora of dedicated servers and other hardware. They provide the data storage support for the immense social data gathered from the big three of social media (Google, Facebook, Twitter). For colocation data centers and large enterprise data centers, metropolitan areas like Los Angles, New York, or Dallas provide a central location to connect with customers and network interconnection points around the world. These data center facilities are the central connectivity hubs for most of the digital traffic traveling from one point to another.
The landscape of data center is evolving and restricting to reach new efficiencies. Server farms are built to support the large data storage needs of major internet enterprises and cloud applications. They are the new backbone for colocation facilities but simply cannot replace old colocation data centers like the One Wilshire in Los Angles because of the inter-connectivity of the location.