Dear Colocation America Readers;
Hurricane Joaquin is making its way up the East Coast and is predicted to hit land in the Northeastern United States starting Monday evening.
If you are in a potentially affected area please stay safe and follow all emergency procedures—that is priority No. 1.
If you have equipment stored in one of our data centers which will be potentially affected by the hurricane, rest assured that Colocation America is making all the necessary preparations to protect our facilities, and the network within, from any hurricane-related potential impacts.
Hurricane Joaquin is currently in Category 4 status with winds reaching 130 miles-per-hour, with outreaching winds hitting areas within a 45 mile radius. The hurricane is expected to affect the areas between North Carolina and Massachusetts. Flooding is expected in those areas.
Here is the projected path of the storm: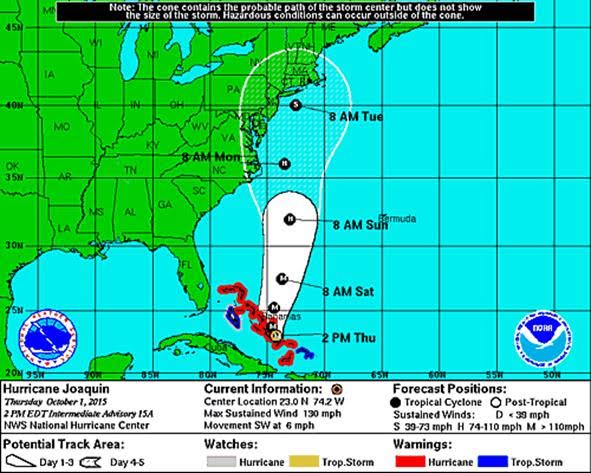 All of our facilities in the potentially affected areas are running on backup generators and will be operating in disaster recovery mode until the storm passes.
A list of potentially affected data centers:
New York Data Center 1: 60 Hudson Street New York, NY 10013
New York Data Center 2: 111 8th Ave New York, NY 10011
New York Data Center 3: 11 Skyline Dr Hawthorne, NY 10532
New Jersey Data Center 1: 100 Delawanna Ave Clifton, NJ 07014
New Jersey Data Center 2: 300 J F Kennedy Blvd E Weehawken, NJ 07086
Boston Data Center: 34 Saint Martin Dr Marlborough, MA 01752
Philadelphia Data Center 1: 9999 Hamilton Blvd Breinigsville, PA 18031
Philadelphia Data Center 2: 1000 Adams Avenue, Audubon, PA 19403
Philadelphia Data Center 3: 3949 Schelden Cir Bethlehem, PA 18031
If you have any questions or concerns regarding your equipment in one of Colocation America's data centers which are in any of the locations potentially affected by the hurricane, please contact [email protected] and we will guide you through the process.
Stay safe!
Colocation America Staff