C.R.E.A.M.: The Internet, Telecoms, and Greed
October 21, 2014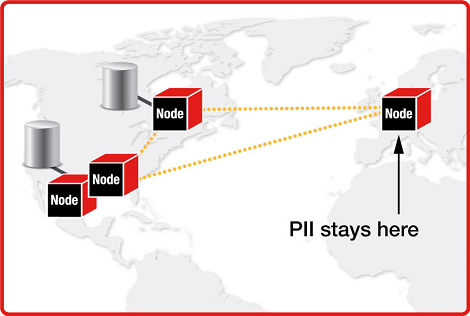 Why Where To Store Your Data Isn't As Simple As It Seems
October 23, 2014
Wake up, all you Mac-heads out there and revel in the latest version of the tiniest Mac out there: The Mac Mini.
The Mac Mini is great, right? It's small, customizable, and kind of cute. In fact, many people store Mac Minis in data centers to house their data quickly and efficiently.
So, you could imagine that people (albeit, a very small portion of people) are pretty stoked for the new Mac Minis, right? Sure. And no.
There's a lot to like about the newest versions, one being the price-point for the base model has dropped a hundred bucks down to $499 from last year's base model.
Plus all the fixings and ports have been improved, now coming with two Thunderbolt 2 ports, four USBs, Ethernet, a built-in SDXC slot, and, of course, the good ole HDMI output.
Also, Apple has bumped up the wireless chip to a 802.11ac (from 802.11n) which could theoretically allow you to have WiFi speeds of 866 megabits per second with the right router.
Are all you spec-geeks out there a tad bit excited? Well, let's take a deeper look into the three models it'll come in:
$499: 1.4 Ghz CPU, 500GB spinning disk drive, 4GB of RAM, Intel HD Graphics 5000
$699: 2.6 GHz CPU, 1TB spinning disk drive, 8GB of RAM, Intel Iris Graphics
$999: 2.8 Ghz CPU, 1TB solid state drive, 8GB of RAM, Intel Iris Graphics
Woah, so that base model, huh? That Intel HD Graphics 5000 chip is what, over two years old? Yikes, this isn't really state-of-the-art, then, eh? But man, that $499 price tag sure is appealing, even with the 1.4 Ghz CPU that's barely half the speed as the $699 model.
If you are so concerned about such things (and let's face it, the Mac Mini base model is a great computer for the average person) you'll probably go with the mid-level model or up, but what if you're someone, or some entity, who uses Mac Minis like this?:
Seems to me like you'd like some customization available in your Mac Mini, right? At least where RAM is concerned. And that's where the new Mac Minis become…not so great.
For some reason, this version's RAM is actually soldered to the board now—i.e. you won't be able to upgrade the RAM yourself.
If you're familiar with Mac Minis, you'll know that previous models allowed you to pry them open and install RAM you sourced yourself for far cheaper than Apple offered to. And the inability to do this might make you kind of sad.
The new Mac Minis also come equipped with tamper-proof screws which makes me question what exactly is inside these new Macs? Do I even want to know? If I do find out, will my memory be erased by Tim Cook? What are your secrets, Apple!?
Less dramatically, here's a quote from the Apple support page confirming the no-go:
The memory for Mac mini (Late 2014) computers isn't user accessible and is integrated into the main logic board. You can configure your computer's memory at the time of purchase.
If you're one of those people with a Mac Mini server farm like the one pictured above, go ahead and take a minute to shed a tear. We'll wait.
….
Ok, man up, now. You look pathetic.
If you're a regular person, the new price tag makes the Mac Mini very affordable for a great computer. Just don't tamper with those screws….
---