If you are a healthcare professional or doctor looking to start up your own practice this year it is important to set up a secure portal for your website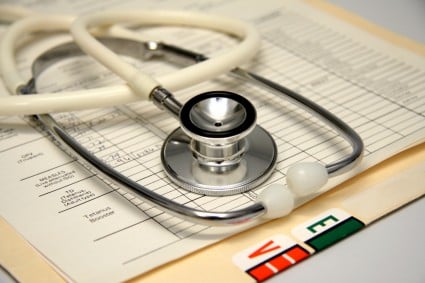 Health care professionals looking to strike out on their own this year need to get a few things in line, namely how their website is setup as well as how you will handle confidential patient data.
Securing patient data is perhaps the most important aspect for doctors on the go. Here are a few tips to aid the upstart process:
Mobile doctors may want to handle secure credit card transactions on the go. If so, they should definitely acquire a dedicated IP address hosted on a secure dedicated server. Many basic shared hosting services assign a single dedicated IP (web-address) address to multiple websites. An IP address shouldn't be confused with your domain name, which is just a shortcut to your real (IP) address.
Sharing an IP address isn't the best idea for a medical practice as some search engines may blacklist your IP based on spam or malicious behavior coming from other websites sharing your IP address on a web-server. A dedicated IP will entitle you to faster connectivity and decrease the possibility of security breach. However, It is important to mention that having a dedicated IP on a shared hosting service plan still makes your IP susceptible to blacklisting. This is because you are still sharing the server with other websites who may be using the same server for malicious purposes. In this case it is best to go with a dedicated server – which automatically assigns your website a dedicated IP address. A dedicated server is just that – a server dedicated to only your website.
Better Yet, Choose a Dedicated Server
Dedicated Servers are assigned their very own dedicated IP address, benefit from faster loading speeds, SSL (Secure Sockets Layer) which encrypts or secures confidential transactions online, as wells as less downtime. While this may sound like an added expense accessing your server remotely will be painless and your patients will appreciate the fact that your website loads faster. Again, it's all about securing patient data and payment transactions. Hosting your medical practice's website on a dedicated server will accomplish all three goals: the dedicated IP, faster connectivity and better security. One more area of importance worth mentioning is that of HiPAA compliance. What is it and why do you want it?
Choose a HiPAA Compliant Data Center
HiPPA compliance (Health Insurance Portability and Accountability Act) certifies a data center lives up high standards and goes to great lengths to protect health information that is stored on a dedicated server. HiPAA compliant data centers also deploy specialized fire-walls and data encryption SSL services ensuring patient data isn't compromised by anyone not authorized to access confidential medical records. Remote access is also made easier and more secure, a great perk for medical practitioners making house calls. Furthermore, medical health records are redundantly backed up so that patient data can be retrieved in case natural disaster strikes the data center facility.
For the health professional looking to strike out on their own this year, securing your website and patient medical records should be a high priority. It will help legitimize your mobile operation as well as make accessing your database faster and more secure. Here's to a safe and prosperous new year and for more info about dedicated IP address click here.