Colocation America Reviews: Music
May 20, 2016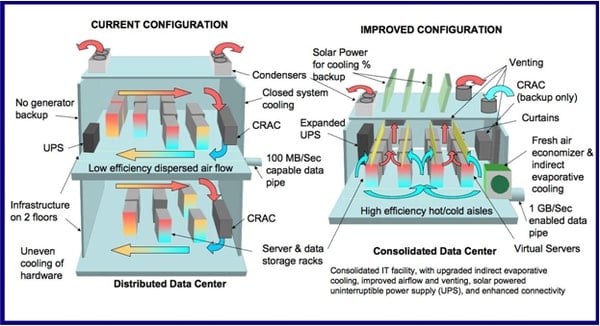 Why Green Data Centers Are the Way Ahead for Environmentally Sustainable IT Growth
May 24, 2016
My name is Samantha Walters and I am what you would consider a "millennial executive" over here at Colocation America. Every Monday (get it, get it, Samantha on Mondays – the S.O.M column) I will write a little something on whatever is on my mind from business practices to current events and everything else in between.
This week's topic – emotions
Some people may refer to me as, well, an as*hole. And by "some people," I mean everyone I know. Over the course of any relationship I have had, business-related or purely as friends, I get called a less-than-nice name at some point.
And guess what? I am ok with it.
Here is the thing – everyone that has ever called me some variation of as*hole has also called me quite a few other things such as free and yet calm. I have heard I can be overly positive (they should just call me an "inspiration leader" instead) and yet, a little, discouraging (sorry, you cannot become a jocky if you are 6'4). I can be charismatic one day (yeah, you love me) and little stand-off-ish (approach if you dare) the next.
As it turns out, I am human and have emotions.
Before we move forward, let's be clear: one's emotions and one's personality are different. According to William Revelle and Klaus R Scherer, personality is what someone expects of another person over time while emotions are what a person observes at a particular moment. Think about your best friend, you probably think they are awesome, funny, caring, blah, blah, blah. Now have you ever seen them angry? I am sure you have, at least once. That is your BFF showing you emotion. If your friend is always angry, that would be their personality (and you may want a new best friend). Revelle and Scherer break it down like this: "personality is to emotion as climate is to weather."
"Personality is to emotion as climate is to weather"
With that said, often in the world of business you are told to control your emotions. As a woman in a male-dominated industry, I was told early on to watch what I say and do. I was told to be strong and never show weakness but above all else, no matter what you do, do not cry.
Everything that people told me to do in regards to my emotions was–and still is—wrong. As my career goes to show, emotions are a powerful tool. Emotions are like an alert system in business; if used correctly, it will tell someone when to approach and when to run.
I use my emotions to tell people exactly how I am feeling. No, really, exactly how I am feeling. When someone calls me and asks how my day is going, I never answer with a "fine" or "good." Those generic responses are not useful and, to be completely honest, a bit boring. Whatever I am feeling that moment, whatever emotion is spilling out, I lay it out there.
For instance, today I am tired, a bit un-focused, and have no patience for bull. If you call me today, and ask how I am doing, I am going to tell you that exactly and probably the reason why (I went to Vegas, enough said). Some people may call that an overshare, I call it honesty. This "honesty" which extends beyond "how are you doing," enables me to have more open conversations with whomever I am doing business with.
As a leader, your emotions are the best indication on how you feel (I know, duh). Say you are a leader that is always positive, laughing, and having a good time. Each week you sit with your staff and discuss what everyone is doing and theirs goals and all that jazz. Each week you tell your staff the same thing. Each week, you and your staff seem happy. Then, as goes with business, something happens. That thing you have been saying each week, no one did or they missed out on a key component.
As a leader, what do you do? It's simple, you get angry and you show it.
Emotions, such as anger, help others understand what you are feeling. Especially as a leader, emotions can be used to convey full conversations with just one emotional sigh. Using the example above, the leader's emotional response will show the staff that he/she cares and, surprisingly, is "just like them," a human. No one can be happy and positive every day, so why pretend?
Then again, I will caution you – it does take practice. Although I disagree with completely controlling your emotions, you do need to exercise some restraint. Again, using the example above, make your eyebrows frown, pound your fist against the table, and then afterwards joke around. Just because you can and should show your emotions, does not mean you should go to the extreme and become a crazy, angry b*tch.
In my experience, emotions may have a bigger impact on business than skill or work-ethic.
Let's be real, people are going to disagree with me on this one so let me explain. First, think of your favorite co-worker. What comes to mind? Is it their skill set or is it the way they handle things? Now think about your favorite "business associate" (someone you work with but not on a daily basis), what about them makes them, well, awesome? Chances are, it is their personality that keeps you around.
People do business with people they like. People do business with people they trust. People do business with real people and real people have emotions.
One last note to the wise – this whole "emotional" thing does not work for everyone and in every culture. Like I cautioned above, showing your emotions, and the right amount, can take practice. Before you start telling everyone on the phone that you are having a miserable day and why, think about your previous experiences with them and, well, their emotional demeanor. As much as they should be reading you, you should be reading them.
To highlight this, story time:
I was 19 years old and decided to coach golf at a residential summer camp in Pennsylvania. For 7 weeks, I took care of 20+ nine-year-olds and had one of the best summers of my life. I finished off the summer with a lot of "Sam, you're my favorite counselor," and tearful goodbyes. I was all hyped and ready to go for summer #2 when I discovered I was not asked back. Yep, the camp that I loved and that I thought loved me did not want me back as a counselor for another year.
Being a little disappointed, I called up and asked why. Apparently, 19-year-old Sam had a bit of a sarcasm issue and, perhaps, had a tendency to be a little too honest with her co-counselors. To sum it up, my emotion-driven style did not fit with their camp. They thought I was a good counselor, worthy of receiving a recommendation from them to work at any other camp but theirs, but I just did not fit them.
Thanks to my first ever rejection, I discovered that I would have to learn to control my emotions and, perhaps, stop blurting out everything that was on my mind. For example, telling the camp director that "I can't be in the clique, I am not even English," (long story) and making her seem stupid probably didn't win me any brownie points.
However, it did teach me a solid lesson – I need to consider the environment/culture I am in before I start just, well, being me.