Given today's tough economy, leased office space isn't always cost effective. Virtual office sharing is a fresh – cost effective solution that some companies have learned to embrace. Is it right for your organization?
During tough financial times businesses frequently source ways to reduce their overheads, much like the turbulent financial times that have gripped the world in recent years.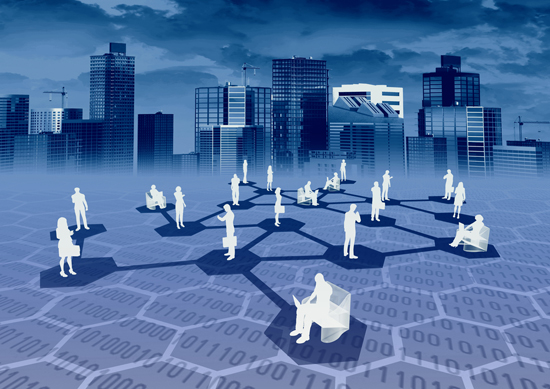 Businesses that make changes to the way their organization operates more effectively weather turbulent economic conditions.
They also adopt methods that enable them to operate more cost-effectively, more efficiently and benefit in a myriad of ways from making changes and trying new things; take virtual offices and office sharing for example.
Virtual offices: Project a professional image and cut costs
Whilst some see virtual offices solely as a means to project an image of professionalism on the part of home based businesses, and many businesses that are based out of their owners' homes have found this an effective way to project an image of professionalism that makes others take their organisation and their services more seriously, there's actually more to arranging a virtual office than projecting an image of professionalism, not that doing so should be seen at all negatively, after all, since impressions count for so much in business why squander a great opportunity?
Virtual offices are more affordable to run than traditional offices and businesses that opt to work from home, and project an image of professionalism with a virtual office, are generally able to operate with much lower overheads.
Virtual offices enable businesses to access admin and business support services when required, without the need to hire full time admin and business support staff that would unnecessarily increase their overheads.
Virtual offices also offer unparalleled flexibility because businesses can be based at home, or in the case of sole traders like advisors, consultants and designers, work wherever they want to, even on the road.
Virtual offices have also been found to extend business's sales reach, for as markets often prove confined when limited to a particular location, businesses are able to hire salespeople in different locations rather than set up physical offices in different locations. Moreover they can use internet and telecoms as a means of affordable communication.
Office sharing: The possibilities are limitless
Like virtual offices, office sharing also has much to offer businesses in a wide array of sectors and although it was once something that would have been looked down upon, given that there was a certain stigma associated with sharing office space, that has changed dramatically in recent years and many businesses are already reaping the benefits that office sharing offers them.
Office sharing has emerged as one of the best options available to businesses that are looking to reduce their overheads during these lean financial times that are showing no sign of abating anytime soon.
Most shared office space is found in the form of serviced offices located in business centres around the world, like those that can be found at www.mwbex.com. As they're located in business centres, this better enables businesses to access admin and business support, along with facilities like conference, meeting and training space.
Shared office space offers excellent networking opportunities and that is something else that can't be overlooked during tough economic times, because networking, like marketing, is essential, though unlike marketing, networking is free. Businesses find that their opportunities for networking increase significantly when working from a shared office in a business centre, plus there are more opportunities for collaborations and referrals too.
Sharing office space with another business offers another unique opportunity, the opportunity for solution sharing. If you're stuck for a solution to a problem that you can't resolve, there's always a chance that someone from the business you're sharing with may have a solution in mind.
About the Author: Nicole McLean is a girl who just loves to write! She writes about travelling, fashion, money, and even business. When she feels up to it, she also writes about fitness, gardening, and so much more.