Data Center Tier Standards | Tier 1-4 Overview | Colocation America
Data center tier standards exist to evaluate the quality and reliability of a data center's server hosting ability. The Uptime Institute uses a somewhat mysterious four-tier ranking system as a benchmark for determining the reliability of a data center. This proprietary rating system begins with Tier I data centers, which are basically warehouses with power and ends with Tier IV data centers, which offer 2N redundant power and cooling in addition to a 99.99% uptime guarantee.
A Tier III data center is concurrently maintainable, allowing for any planned maintenance activity of power and cooling systems to take place without disrupting the operation of computer hardware located in the data center. In terms of redundancy, Tier III offers "N+1" availability. Any unplanned activity such as operational errors or spontaneous failures of infrastructure components can still cause an outage. In other words, Tier III isn't completely fault tolerant. A Tier IV data center is fault-tolerant, allowing for the occurrence of any unplanned activity while still maintaining operations. Tier IV facilities have no single points of failure. The basic concept is that a Tier IV design requires double the infrastructure of a Tier III design. Note that both Tier III and Tier IV data center specifications require IT equipment to have dual power inputs to permit maintenance of power distribution components between the UPS and IT equipment.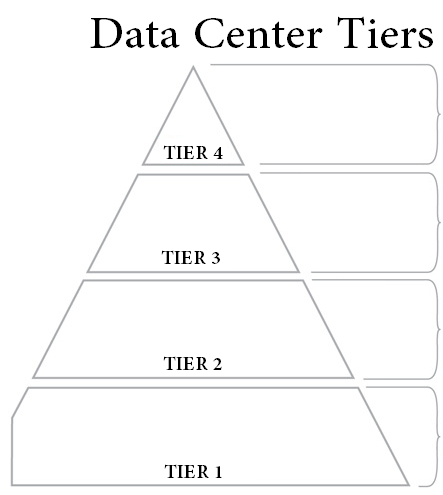 Enterprise Corporations
99.995% Uptime
2.4 Minutes Downtime Per Year
2N+1 Fully Redundant
96 Hour Power Outage Protection

Large Businesses
99.982% Uptime
1.6 Hours Downtime Per Year
N+1 Fault Tolerant
72 Hour Power Outage Protection

Medium-size Businesses
99.749% Uptime
22 Hours Downtime Per Year
Partial Redundancy in Power and Cooling


Small Businesses
99.671% Uptime
28.8 Hours Downtime Per Year
No Redundancy
Unfortunately, the Uptime Institute has chosen not to fully publish the evaluation criteria for these different tier levels. Few data centers have tier certifications from the Uptime Institute. Only 38 facilities or design documents for facilities have official tier certifications at this point; these are primarily enterprise data centers. The result is that the Uptime Institute's definitions have been misused by the industry, ignorantly in many cases. Facility builders, designers and owners have tried to tweak the terminology slightly to give it their own unique flavor. Enterprises should question any Tier IV claims by data center providers because it is difficult to get customers to pay the rates necessary to monetize the Tier IV investment of roughly double that of a Tier III facility.
Tier I Research has established a bi-level data center quality rating system, with the following criteria:
Premium Data Center:
Facility must meet N+1 redundancy standards in each of the following areas: uninterruptible power supply (UPS), backup generators and HVAC systems. Preferably, the facility should be on multiple power grids. The facility must have 24/7 staffing and continuous video surveillance. Biometric security is prefered, but not required. VESDA (or better) fire detection and dry-pipe pre-action or gas-based fire suppression are required. Multiple fiber providers must serve the facility through two or more entrance facilities. Data center resiliency is based not only on physical power and cooling infrastructure, but also on network communications redundancy and fire detection and suppression. These are key attributes missing from the Uptime Institute's data center tier ratings, which focus on the power and cooling infrastructure.
Standard Data Center:
Facilities with sufficient power and cooling capacity and basic fire suppression are in this category, as are data centers with non-redundant HVAC and UPS units and only a single backup generator. The bottom line is that data center customers are looking for high availability and security for IT equipment, which implies redundancy for power, cooling and network connections; fire detection and suppression; the ability for concurrent maintainability and the 24x7 staffing and security found in a premium data center.