Data Center Cooling with IBM's Wonderful Ass-Kicking Robot
November 3, 2014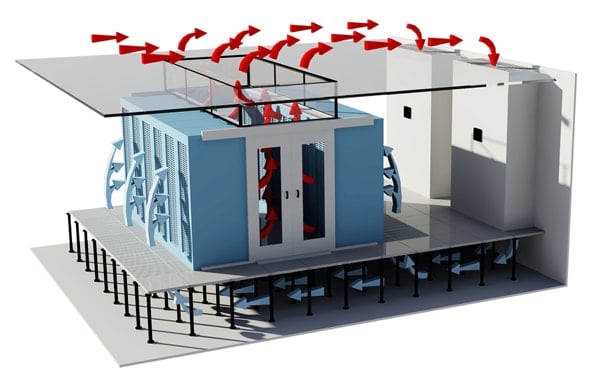 Is Hot or Cold Aisle Containment Right For Your Data Center?
November 5, 2014
Everyone loves Google, right? Sure you do. Now, Google is trying to give you even more to love about them, especially if you're an enterprise, and especially if you're on their Cloud Platform. Google announced today that it will allow enterprise-level subscribers to tap DIRECTLY into Google's data centers.
Google's Cloud Interconnect offerings
So, Google has decided to give their Cloud Platform users three options: direct peering, carrier, and VPN connectivity. What do each of those three do? Well, with VPN, you'd be running a 'Virtual Private Network' that would allow you to connect with Google's data centers over a (duh) virtual network.
With the carrier option, Google has partnered with seven carriers to allow users to connect to Google's data centers and their Cloud Platform through one of the vendors.
And lastly—and this is the big one—you can connect directly to Google's data centers without a 3rd party. That's right: Google wants you to have the fastest connection possible to the stuff that powers their Cloud Platform.
The whole shebang is called the Cloud Interconnect and they wanted to provide enterprise-level businesses the opportunity to have the best connectivity options they could give them.
You're probably wondering why all of this is important and you'd be right, in that regard. The cloud is notoriously iffy when it comes to security. One thing goes wrong and the whole system is vulnerable, or if one person doesn't have the proper security protocols in place it can ruin everyone else's good time. These direct connections provide an extra layer of security on top of what you may already have. You don't think Google has the most secure data centers in the world? You trippin', son.
Google wants to provide the fastest connections for their customers and their customers customer, so the Cloud Platform subscribers are tapped into Google's Fiber Network and are reaping the benefits of that when they connect to Google's facilities.
It's not a new idea—Amazon has already done it ('Simpsons did it!')—but it is the next step in the evolution of the cloud.
We always hate to harp on this, but it's kind of our job: a dedicated server also provides a direct connection to a data center. Granted, I doubt you'll be able to place a server in Google's data centers for your own use, but the fact remains that a dedicated server can provide that secure, direct connection that can reap the benefits of direct connectivity inside a facility for a fraction of what it would cost to set up on a cloud platform like Google's.
But hey, we're not ones to judge. This is still a pretty cool step forward.
[h/t TechCrunch]
---