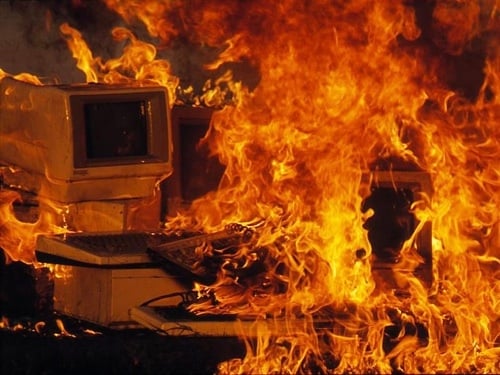 Data Centers and Fire: How to Not Go Up in Flames
April 21, 2014
Google Celebrates Earth Day with Renewable Energy Agreement
April 22, 2014
Control your environment on the inside so that you help the environment on the outside…
[Editor's Note:  In honor of Earth Day, we've got a lovely guest blog on how to control the environment INSIDE the data center to allow for proper performance and efficiency.  More heat inside a data center negatively affects the amount of power used, which affects how much of a carbon footprint your facility is leaving.  It's the circle of life of data centers, sort of.]
The environment of your server room is an important piece of the network puzzle. As the equipment can become quite hot throughout the day, components could become unstable. When these devices become heated, everything from corruption of data transmissions across Ethernet lines to complete hardware failure could hinder your infrastructure. Here are four variables to look at to construct the perfect environment in your server room.

The 4 Most Important Aspects of Server Room Environment Control
Temperature
When it comes to keeping the server room cool, many developers will install conditioning units. However, not all of these AC units will benefit your network infrastructure. Humidity can be nearly as damaging as heat, and your cooling unit needs to emanate very little moisture if any at all. You may also want to ensure that condensation will not occur within the room from these units. Vapor traps and proper drainage hoses leading out of the room may be needed depending on the type of cooling unit you want to install.
Exhaust Fans
Depending on the size of your server room, exhaust capabilities can push the hot air out while the cool air from the conditioning units fills the room. This circulation of air can ensure that the room temperature can be maintained at the proper degree. While it may be possible to keep a server room well managed without exhaust fans, the lack of these devices can make your conditioning unit work harder than it needs consuming more energy in the process.
Proper Rack Assembly
Computer racks can help keep the server room cool by eliminating congestion of airflow. The circulation of air is important in keeping a temperate climate, and too many wires and devices can be detrimental to the movement of this air. Network device and computer racks can help prevent overheating and are designed to allow proper air flow while keeping the equipment and cables from being a hindrance to climate control.  Use color-coordinated ties to group important cables together on racks, and make sure that no equipment is inside the rack that could potentially cause an airflow blockage.
Remove the Clutter
Keep the room clear of non-essential equipment and furniture. Various objects can reduce the flow of air which can make it more difficult for your cooling unit to succeed. The server room is not a storage facility regardless of how much space is available.  Do routine checks to make sure no excess equipment or storage is taking place inside the server room.
In extreme cases, heat can cause irreparable damage to vital components of your network. Some of the more common problems include power supply failure for devices, break down of master switch components and damaged fiber optic converters. Keeping your server room cool and functional can help keep your network running at optimal performance.
For more information contact Emma Sturgis. Emma is a freelance writer living in Boston. She writes most often on health and technology. When not writing, she enjoys baking and rock climbing.