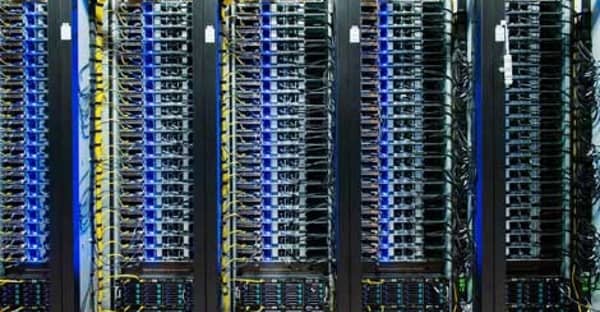 Getting the Most from Your Colocation Data Center
August 24, 2021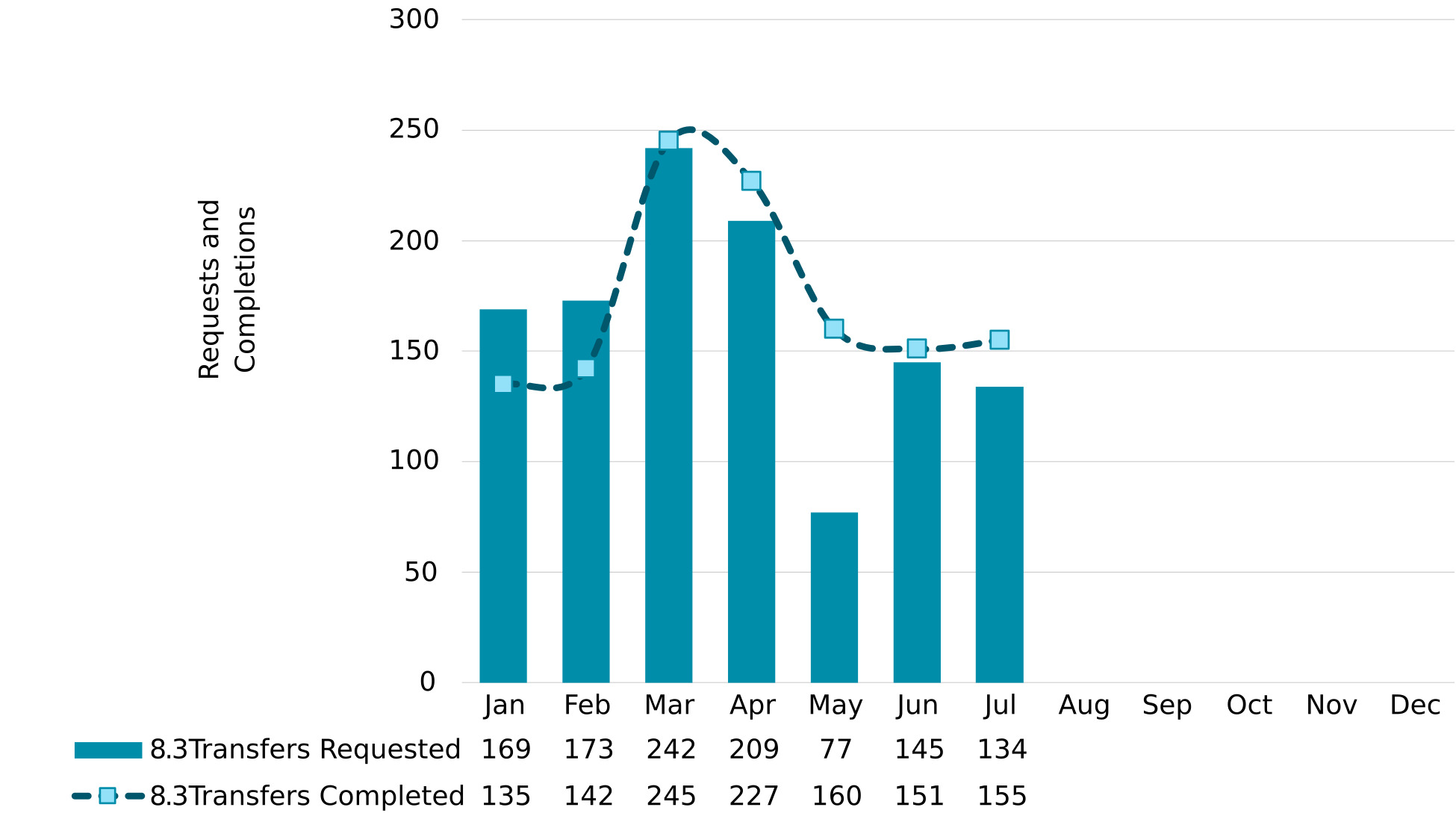 The Current State of the IPv4 Market
August 26, 2021
One of the most important aspects of data center services is uptime. The modern world relies on connectivity for everything. Most modern businesses use data centers in one form or another for all their digital information. Having this information available at all times is vital for all businesses. According to Gartner, the average cost of IT downtime is $5,600 every minute. For some businesses, it could potentially cost between $140,000 to $300,000 every single hour. On the higher end of the spectrum, it could even cost up to $540,000 every hour. This is why data center uptime is such a significant topic for many, if not all, businesses.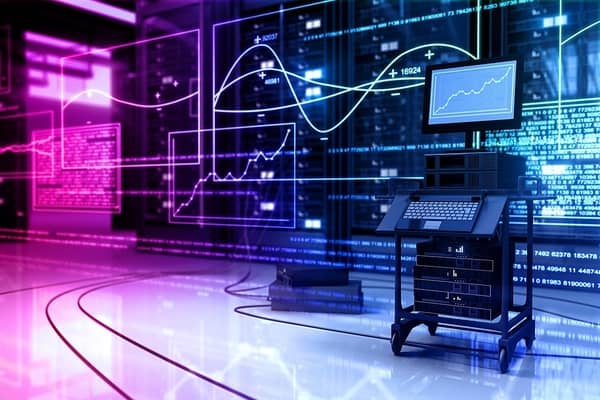 What Is Data Center Uptime?
This term can be confusing or even misleading once you've started down the rabbit hole researching various data center providers. But in simple terms, uptime is measured by the data center's ability to reliably and steadily provide power and connectivity to all of the servers hosted in its infrastructure.
Most modern data centers have extremely high reliability. Most data centers have numerous redundancies and backup systems in place to safeguard the system. If something were to come up like a power grid outage, a natural disaster, or equipment failure, the backup systems would be there just in case. Because most modern businesses rely on data centers, these data center operations are ready for just about anything. Even something like a powerline outage wouldn't stop a data center from coming back online in just a matter of moments.
The physical infrastructure of a data center is important, but it isn't the only thing that affects uptime and downtime. Downtime isn't always caused by hardware failure, a natural disaster, or power loss. Sometimes these issues can be the result of a software problem, an issue with configuration, or human error. But even with downtime, good data centers can quickly fix these issues with the help of highly trained IT managers and connectivity solutions. When it comes to data center tier standards, all four tiers have an uptime guarantee of over 99%.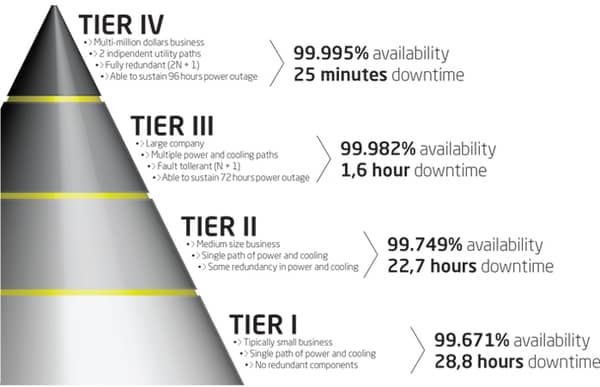 Uptime Institute's Data Center Tier Standard System
Data centers use The Uptime Institute Tier Standard System to show the amount of uptime they can guarantee their customers along with other quality assurances. There are four different tiers within the tier standard system.
Tier 1 data centers are generally used by small businesses. These data centers feature 99.671% uptime. Tier 1 data centers cannot guarantee redundancy, and customers can typically expect to have around 28.8 hours of downtime every year. Again, data centers are a vital part of many businesses, which is why the lowest tier already offers over 99% uptime, with less than 30 hours of downtime every year.
Tier 2 data centers are a step above the first tier. These data centers can guarantee 99.749% of uptime. Tier 2 data centers can also offer partial redundancy for power and cooling systems. Tier 2 data center customers are guaranteed to only experience 22 hours (or less) of downtime every year. This tier is great for small to medium-sized businesses that more uptime and a partial redundancy guarantee.
A Tier 3 data center is another step above the previous one and is usually used by larger businesses. Tier 3 data centers can guarantee at least 99.982 of uptime. These data centers can also guarantee 1.6 hours (or less) of downtime every year. So, for the 8,760 hours, we have every year, Tier 3 data center customers can expect their service to be available all but 1.6 hours every year.
Tier 4 data centers are at the very top of the list. These data centers are normally utilized by enterprise corporations. Tier 4 data centers can guarantee an uptime of 99.995%. They have a 2N+1 fully redundant infrastructure, which is the main difference between a Tier 3 data center. Tier 4 data centers also require 96-hour power outage protection, and 26.3 minutes of downtime every year.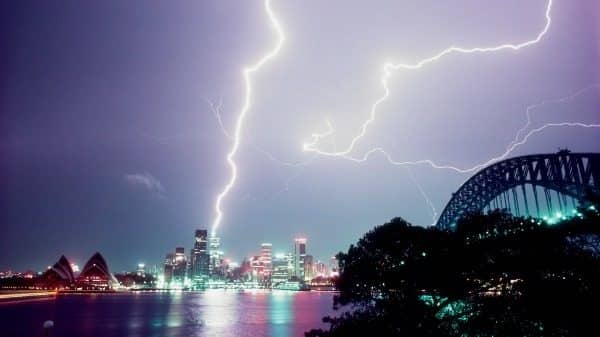 What Are Some Things That Affect Data Center Uptime?
Several aspects that can cause data center downtime. Every data center in all four tiers could potentially experience these issues. The first one is a system failure. There are potential issues that could arise when using older or unstable IT infrastructure including keeping up with high transfer speeds and keeping up with uptime guarantees. Regular maintenance and upgrading to new equipment can prevent some of these issues.
Human error is another aspect that all data centers will have to deal with. Although some data centers have deployed some sort of artificial intelligence, all data center operations still have human data, center managers. Data centers require a lot. These systems are maintained, tested, repaired, and monitored 24/7. Data center managers aren't perfect, but the state-of-the-art technology data centers use also helps with some of these issues.
Data center uptime can also be affected by natural disasters. This is another unavoidable aspect. There are just some things we cannot control including earthquakes, hurricanes, floods, thunderstorms, and snowstorms. All of these could negatively affect a data center's uptime. One of the best ways to prevent too much downtime caused by a natural disaster is by having a good disaster recovery plan. A good disaster recovery plan can also help with data loss.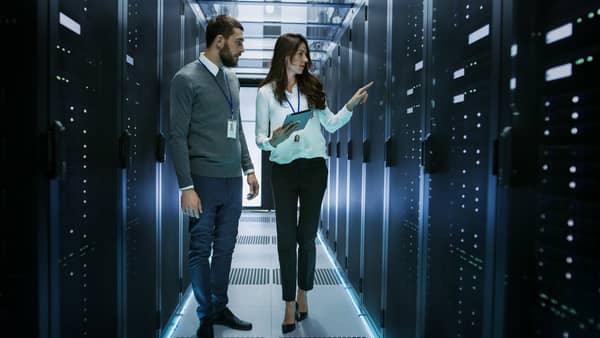 Conclusion
Many different aspects could potentially cause some downtime, but even with these various aspects, many data centers can still offer over 99% uptime. Most data centers claim 100% of uptime, but looking closely at the fine print, this doesn't usually take into consideration any routine maintenance or "planned downtime". Data center uptime standards show how reliable modern data centers are. Over 99% uptime for all data center tiers is quite remarkable. Understanding how data center uptime standards work is important, but this isn't the only thing to consider when searching for a data center. If you are looking for a data center provider, one of the most important things to look for is a provider that can you and your business can grow with. A good relationship with your data center provider is vital because after all, "It's All About Connections."