Running a FreeBSD Dedicated server is the ideal choice for any business that depends on having a strong network infrastructure for the majority of its operations. The operating system is great for network applications and has one of the best encryption technologies in any operating system. Users can be confident running business operations on the Internet since our FreeBSD server hosting is finely tuned to protect and encrypt sensitive data. Our
FreeBSD dedicated servers
provide advance hardware management features that work to keep any server running at optimal levels. These management features let the operating system utilize the underlying hardware of a dedicated server to its fullest capacity. Monitoring software allows the server to self-diagnose itself; if there are any areas within the server that are experiencing problems it will be detected and fixed automatically. The operating system has a finely worked kernel that can properly distribute workloads to over 8 CPUs.
What Are the Benefits of FreeBSD Dedicated Hosting?
Security Features to Protect Network and Servers
The handling of sensitive business data and customer privacy is important in
maintaining a secure hosting environment
.The FreeBSD operating system is ideal for those that are worry about their server security and want an impenetrable network. The operating system can protect network infrastructure from being compromised from outside sources. Not only does the file management system make sure that files stay uncorrupted, the FreeBSD kernel supports stateful IP firewalling, IP proxy gateways, access control lists, jail-based virtual hosting, and cryptographically protected storage. These features secure a company's network infrastructure by regulating who has access to sensitive business data. Secure partitioning of a company's server network can be done to further restrict access to any area of a server. Partitioning a part of the server will allow a business to manage where information goes and where it doesn't go.
Multitasking
Under the heaviest loads, FreeBSD's dynamic priority adjustment predicates smooth sharing of the computer's applications between users and memory. Additionally, FreeBSD's memory protection means that if an applications crashes, the crash will not affect any other opened applications. A FreeBSD dedicated server also features Symmetric Multi-Processing (SMP) support for multiple-processor machines.
---
How to Use FreeBSD
Releases of FreeBSD are available via the File Transfer Protocol (FTP) from the
FreeBSD FTP site
.
License
restrictions are summarized by FreeBSD as follows:
Do not claim that you wrote this
Do not sue us if it breaks
Do not remove or modify the license
The installation process is greatly detailed by Nik Clayton, a FreeBSD developer, and can be found
here
.
---
What Are the Hardware Requirements of FreeBSD?
The minimum system requirements for the FreeBSD operating system are as follows:
RAM
- 64 MB
Hard Disk
- 1.5 GB
---
What Is FreeBSD?
FreeBSD
is a highly advanced operating system that is x86 and x64 compatible. The original version of the operating system, Berkeley Software Distribution (BSD), was developed on a
UNIX
 operating system at the Berkeley University of California. Today, it is the most commonly used open-source BSD, with over three-quarters of all BSD systems being FreeBSD. Since its development, it has evolved thanks to the support of an avid community. Now our dedicated FreeBSD servers are the most advance operating system out on the market today. It offers advanced networking, performance, security, and compatibility features that are still lacking in most operating systems out on the market.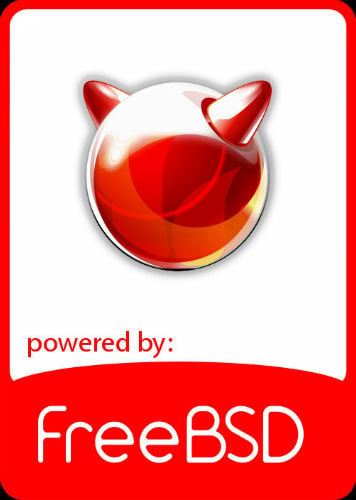 ---
The Sun's ZFS Advanced File System
FreeBSD dedicated hosting also includes the
Sun's ZFS advanced file system
to manage server's files. The ZFS file system built in file compression and file-healing application will help keep server's files intact. If any files are corrupted or misplaced, the system will detect the discrepancy and alert the user of any potential problems that might affect server operations. RAID, snapshots, and file volume management are some more features that improve the way FreeBSD can self-manage a dedicated server. Utilizing these features, a dedicated server with FreeBSD operating system installed can run for years without a single reboot. FreeBSD is the choice operating system for users looking to get superior performance out of their dedicated servers.