I'll take a mocha and your Wi-Fi password, please…
Everyone likes quick Wi-Fi—that's a fact.  Wi-Fi is like the lifeblood in a bloodless, non-connected world.  Well, things are about to get a whole heck of a lot quicker in the Wi-Fi department because Qualcomm has developed a new chip that boosts Wi-Fi speeds in public spaces.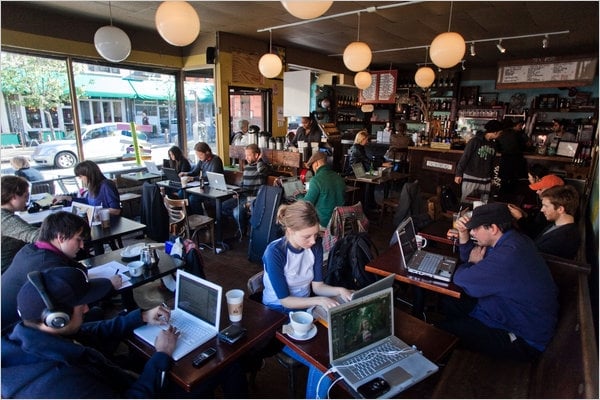 Qualcomm's new Wi-Fi chips
Currently, a wireless connection can only handle one device at a time–so if multiple devices are connected, the connection has to jump in between the different devices to service all of their needs.  This, obviously, results in slower speeds for everyone.  Ever try to connect to a Wi-Fi connection in a coffee shop when there's more than like 5 people in there and feel like you're back on dial up?  That's why.
Well, Qualcomm doesn't wanna hear that noise, so after nearly seven years of research, they've developed a chip that can handle multiple connections, using technology called "MU-MIMO," or "multi-user, multiple input, multiple output."  Using crazy math stuff to determine needs based on device usage, the connection will allow the network to transmit data to many groups of users at a time.  The only downside is that both the router and the device have to be using the chip, which is why Qualcomm is selling the chips to the people that make the routers and the people that make the devices.  Don't fret if you don't have a router or device that's enabled for MU-MIMO networks—you can still expect a boost in speed due to users being grouped and using less network capacity.
The promise is that the chips and the MU-MIMO technology boost speeds by up to two to three times.  Qualcomm says that using this new technology is like being in the carpool lane on the highway.  You move faster because you're grouped with others, and the non-carpool lanes move quicker due to decongestion.  Everyone wins!  Now if real traffic could actually work like that.