Happy Mother's Day, Moms! On behalf of all the kids in the world, I say thank you! Thank you for supporting us. From cleaning up our poop to finding us jobs, you have been there for us through the thick and thin. Our moments together – may they have been happy or sad accompanied by laughing or crying – have made us the kids and adults we are today.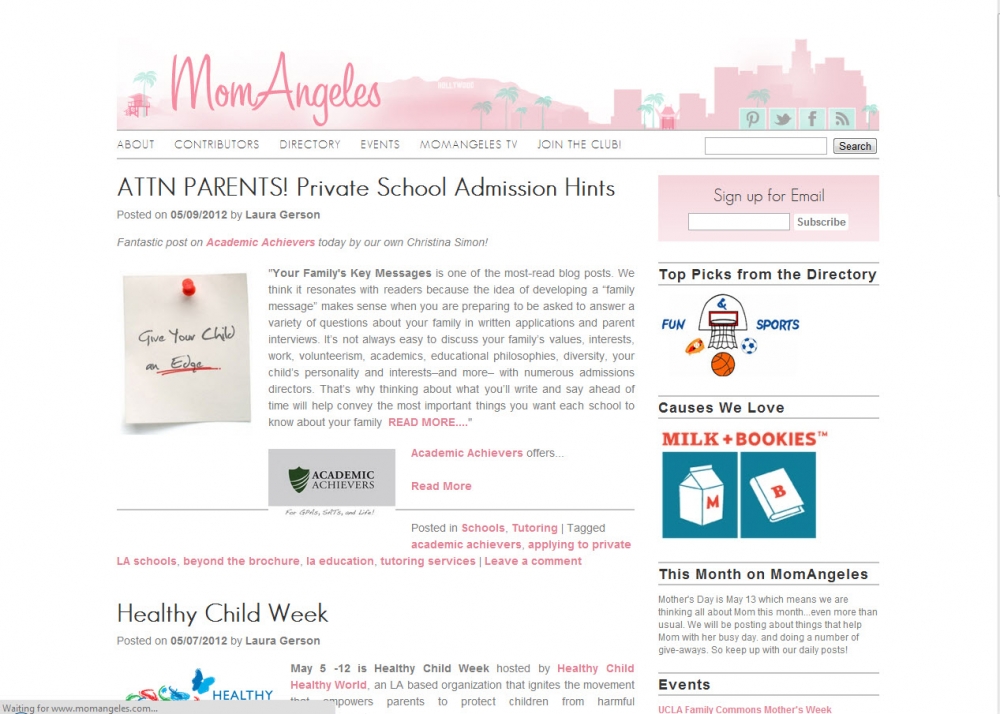 Mommy Bloggers
To say thank you and to celebrate a few Mommies in the world, here is a list of Los Angeles Mommy Bloggers and Blogs who are making a difference. Since their creation, these blogs have been supplying helpful tips and hints for Mom's everywhere.
Here's what you should do with the list:
If you are NOT a Mom, feel free to send this list to the Moms in your life and don't forget to tell them how much you love them (technically, I think that counts as a gift and if it doesn't work here are eCards and free blogger templates by Leelou Blogs made for a Mom like yours.  Now you have a gift – don't say I  never gave you anything).
If you ARE a Mom, feel free to take a look at this list (click on the images to go to the blog), let me know which blogs I am missing, and then send it to the other Moms in your life.
Again, Happy Mother's Day and congratulations to the Moms below for serving Mommies around the world…
For General Moms: MomAngeles
MomAngeles, started by Laura Nix Gerson, is the online directory for Mom's in Los Angeles. This blog has a Mom's Directory that includes online resources for getting into private to personal stylist, a Kid's Directory that includes classes and camps, a Baby Directory for new Moms, and an Event Calendar for family-friendly events. MomAngeles is the one stop shop of resources for Los Angeles moms. For providing resources for the whole family, we salute you MomAngeles.com.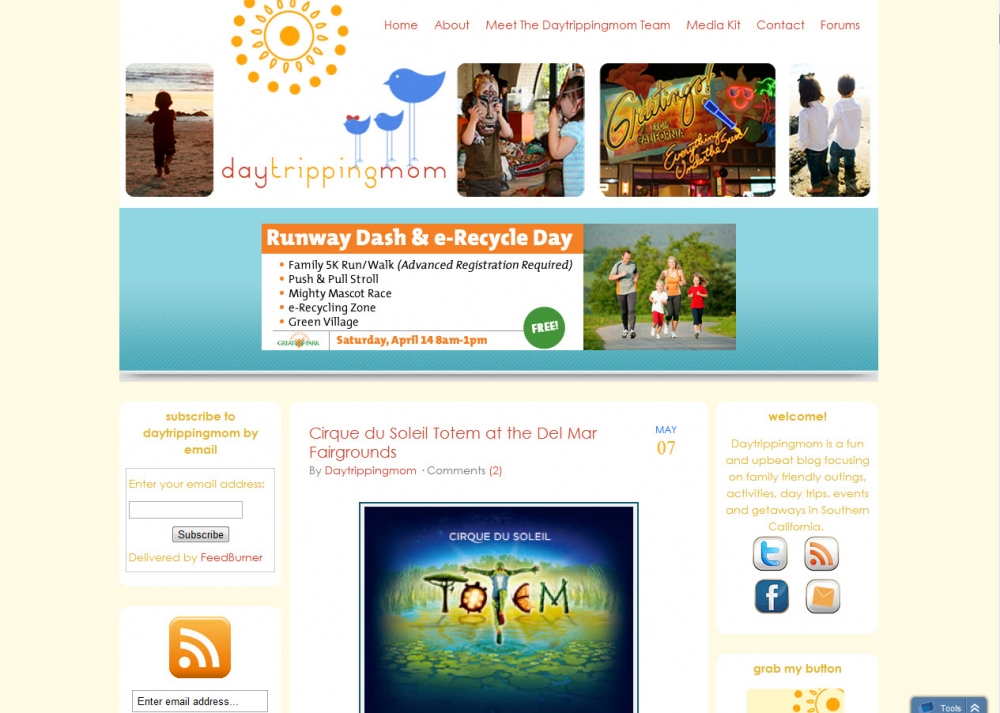 For Traveling Moms: Day Tripping Mom
Day Tripping Mom, written by mother of two Aracely, is a blog written for the SoCal family who loves to go to new places. This blog specializes in providing its readers with fun places to visit that are easy on the wallet. Aracely, a self-proclaimed Disney Geek, shares her experiences on her "journey to discover every square inch of magical Southern California."
For providing fun day trips for all families, we salute you DayTrippingMom.com.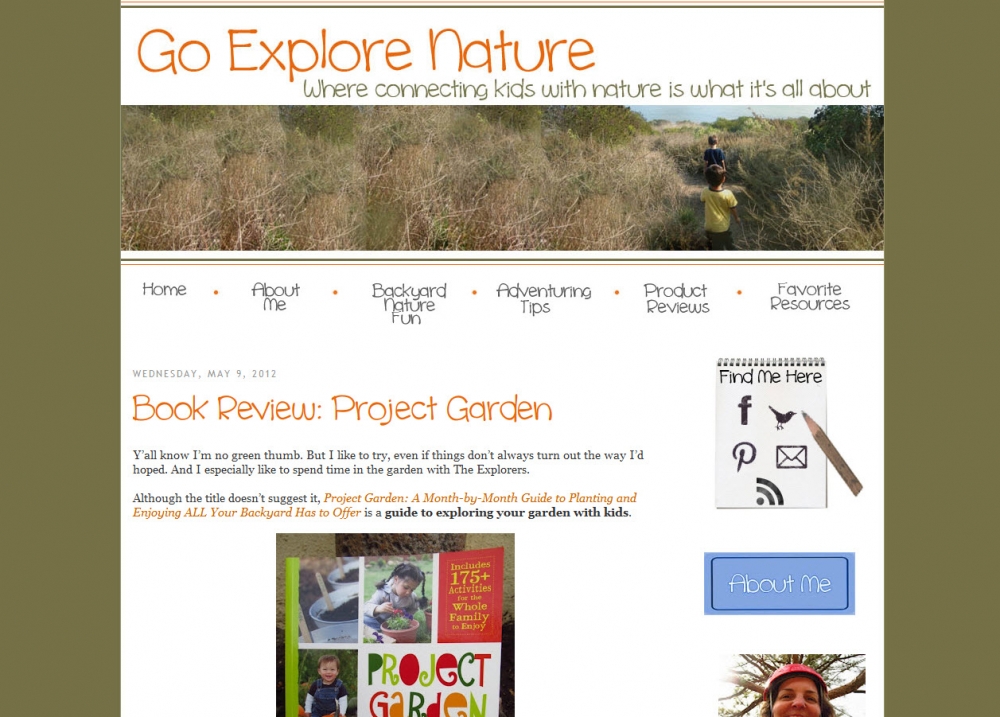 For Nature-loving Moms: Go Explore Nature
Go Explore Nature, written, edited, photographed, promoted, and fun planned by mom of two Debi, is a blog for the nature lover. This blog gives reviews, stories, lessons, and fun activities to do outdoors with the whole family. For the avid nature seeker in Los Angeles, Go Explore Nature is a perfect place to get new and innovative ideas on where and what to do with the family.
For providing family-friendly outdoor experiences, we salute you GoExploreNature.com.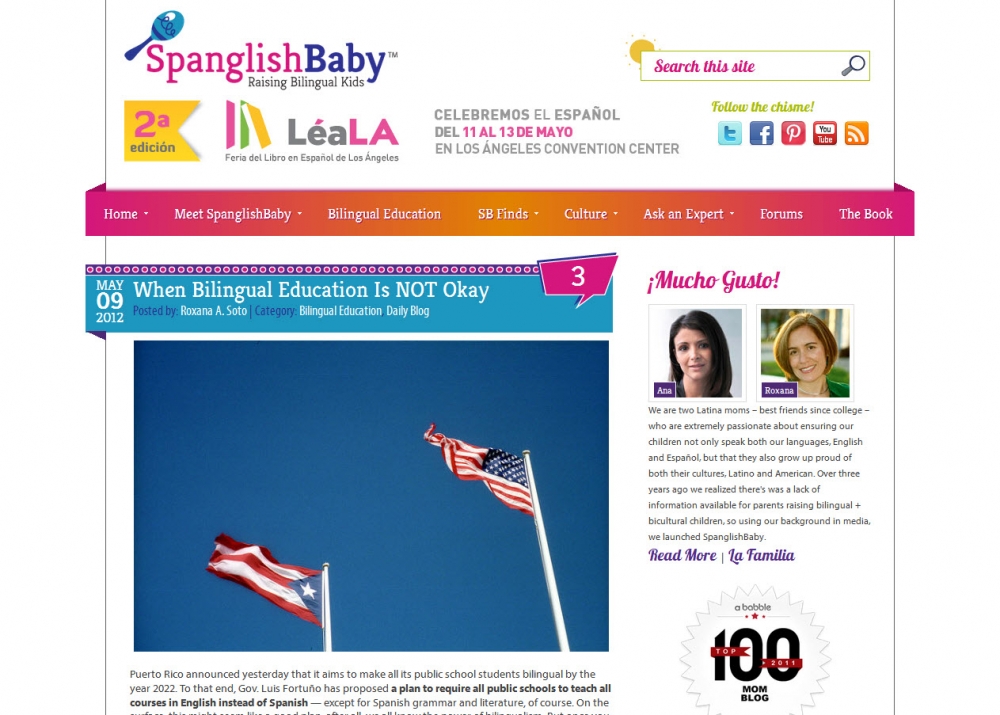 For Bicultural Moms: Spanglish Baby
Spanglish Baby, started by two Latina moms, offers the latest news on Latino and American family culture. This blog gives parents raising bilingual and bicultural children an opportunity to connect, help, and grow together. Spanglish Baby is the place to find bicultural books, videos, recipes, and to even ask an expert or talk to other Mom's in the same position.
For providing a platform for bilingual and bicultural Mothers in Los Angeles, we salute you SpanglishBaby.com.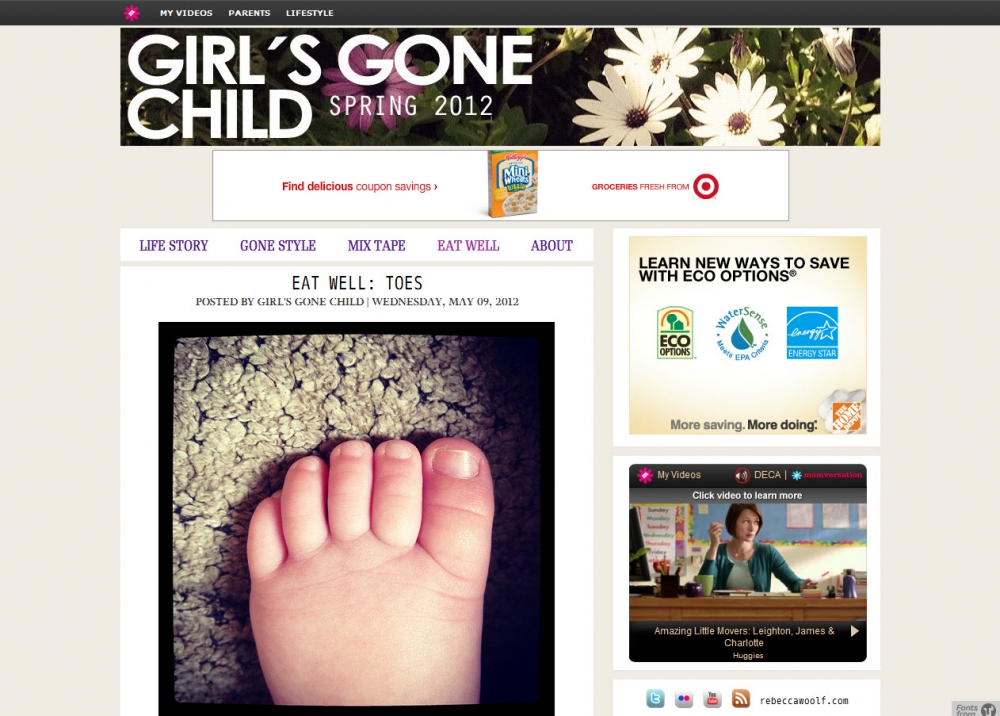 For Image Centric Moms: Girl's Gone Child
Girl's Gone Child, written by mother of four Rebecca Woolf, is a blog dedicated to family life, love, style and music. This blog uses amazing photos to help illustrate the wonders of raising children. Beyond the adorable photos, Girl's Gone Child provides style, music, and dining advice for Moms everywhere.
For providing the best accompanying images around, we salute you GirlsGoneChild.net.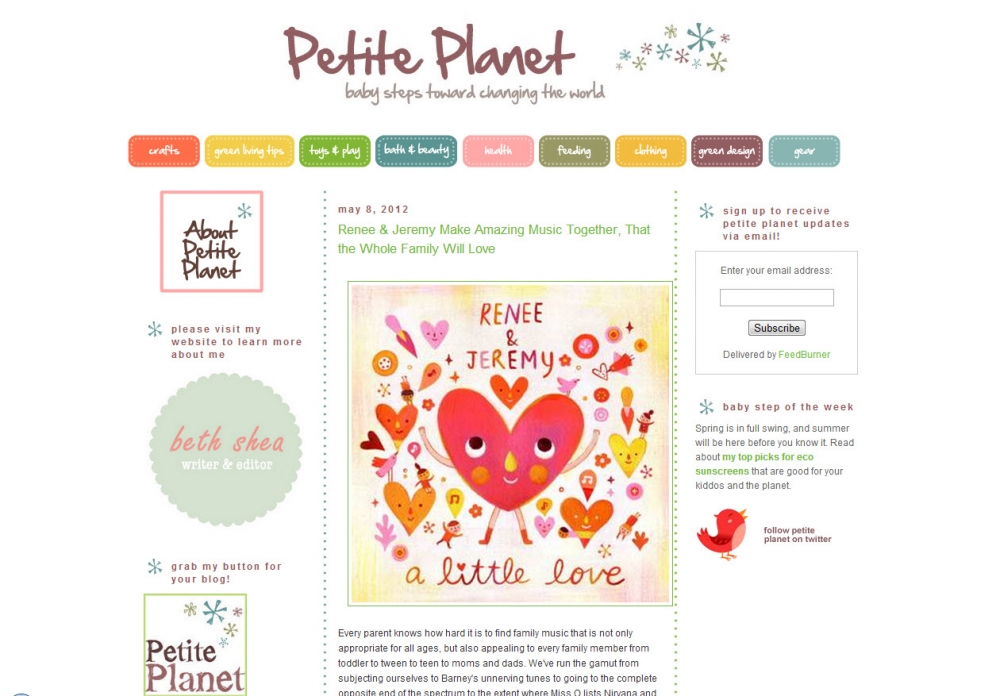 For Green Moms: Petite Planet
Petite Planet, written by mother of two Beth Shea, is a "Green" Mothers dream blog. This blog provides information on eco-friendly products, organic choices for families, tips on living green, arts and crafts projects, and even healthy choices for pets. Beth's "baby steps toward changing the world" philosophy helps families make small changes in their daily lives.
For providing green living for the whole family, we salute you PetitePlanet.blogspot.com.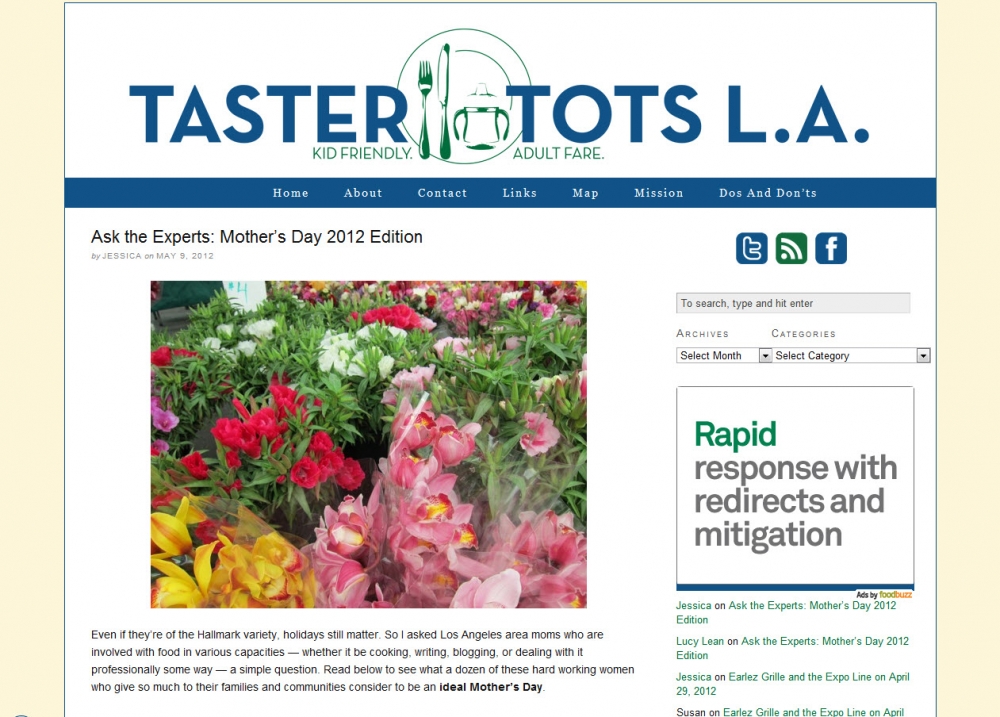 For "Foodie" Moms: Taster Tots LA
Taster Tots LA, written by mother of two Jessica Ritz, is a blog that gives the run down on the happening places to eat – family-friendly places. This blog offers foodies a guide to eating out in Los Angeles with their kids. Taster Tots LA not only tells you where to go but tips concerning what makes the place suitable for kids.
For providing the places to eat for families in Los Angeles, we salute you TasterTotsLA.com.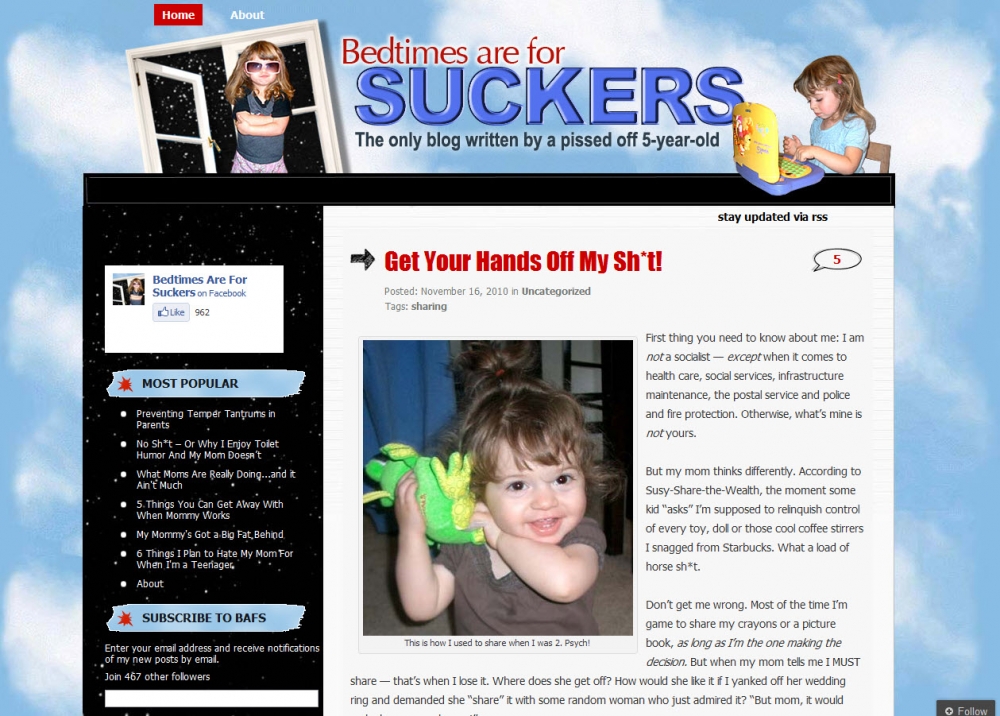 Bonus: For (kid) Moms: Bedtimes Are for Suckers
Bedtimes Are for Suckers is a blog "written" by 5-year-old Lily mother of 16 children (9 dolls, 7 stuffed animals). This is all you need to know about the blog: "From what I can tell, the whole 'mommy blogging' world is one never-ending b*tch-fest about how us kids get on your nerves. Did you ever think maybe hanging out with you guys is no picnic either?" and that is why the blog was started. Get your hilarious fix here.