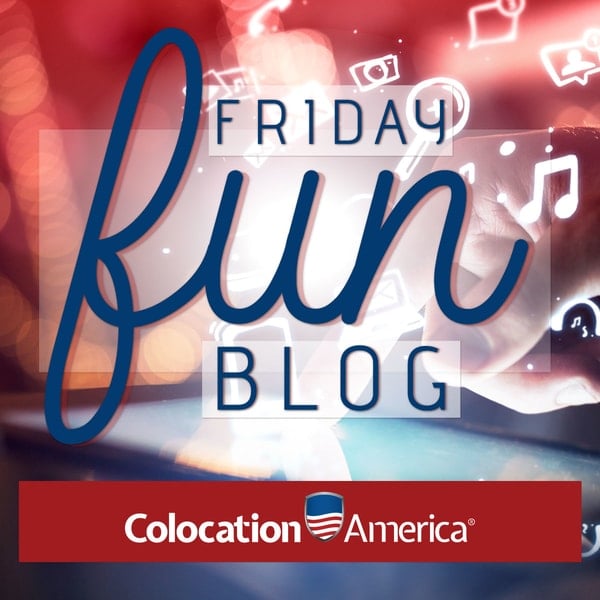 Friday Fun Blog: Humpback Breach Edition
October 14, 2016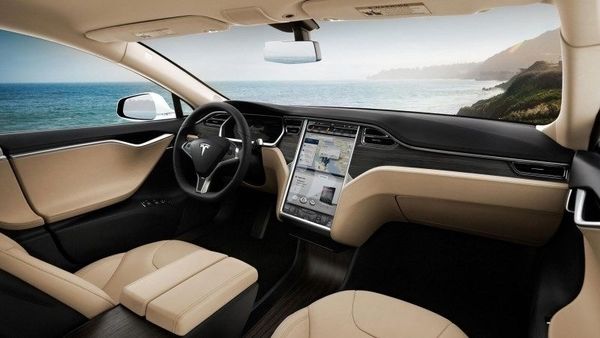 How Big Data Drives Tesla
October 19, 2016
The average unplanned data center outage costs nearly $9,000/minute according to the most recent Emerson Network Power Study.* However, the damages caused by a fire don't end after just a few minutes of downtime. A fire in a data center can permanently destroy servers that contain valuable information. And, for data centers that supply server space to mission critical institutions, like airlines, the consequences can be even more dire.
While the damage from a fire can devastate a data center, the current fire suppression methods can cause just as much damage. Water from sprinkler systems can short electronics throughout a data center, and many alternative methods use chemicals that are harmful for the environment.
In order to solve this dilemma, Marioff took an idea that had been studied for 50 years, and finally made it work. After thousands of tests, Marioff has refined their HI-FOG technology to suppress fires, and mitigate the effects of water damage.
Unlike a traditional sprinkler system, HI-FOG creates a fine mist of tiny water droplets that minimize the damages from fire, heat, and smoke.
---
How HI-FOG Works
With a unique nozzle design, HI-FOG can create a stream of micro-droplets, which are only 50 – 120um (micrometers) in diameter. This means a HI-FOG system can use up to 90 percent less water than traditional sprinklers, while still achieving comparable results.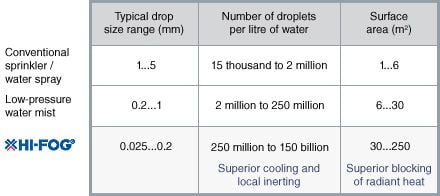 Not all data centers use sprinkler systems. In order to combat water damage to electronics, many data centers have switched to "clean agent" systems instead.
Clean agent systems use gases to deprive a fire of oxygen, but these systems have many problems associated with them as well. For example, the most common gaseous suppression, Halon, has recently been banned for its harmful effects on the Ozone layer. The most popular alternative, FM-200 is also a greenhouse gas, which is being limited due to its harmful effects to the environment.
In fact, some clean agents are banned in certain countries, "FM-200 Clean agent can be installed in US, but is banned in other countries such as Denmark and Germany due its negative effect on the environment." And, other options require specialized pipes to be placed throughout the building, and air-tight doors and windows that need to be sealed shut when a fire starts.
For these reasons, data centers are turning to HI-FOG, which is able to fight fire on two of the sides, removing both heat and oxygen.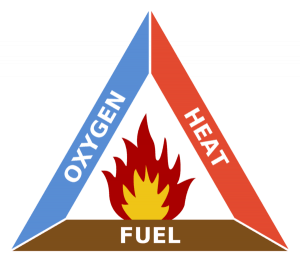 When water turns to vapor, it absorbs more heat than any other fire suppressant. And since HI-FOG creates very small droplets, which have a high surface-to-volume ratio, each drop is able to absorb a lot more heat. This makes HI-FOG very effective at cooling a fire down
When the drops turn to vapor, they expand in volume by more than 1700 times, which deprives the fire of surrounding oxygen.
---
What Are the Benefits of HI-FOG?
Henri Simula, the Global Key Account Manager for Data Centers at Marioff told us about the benefits of HI-FOG system, which he states, "has recently successfully passed the FM Approvals fire tests to successfully protect Data Halls and sub floors under white spaces." But, there are many other benefits that HI-FOG can offer your data center.
Environmentally Friendly
Since it uses up to 90 percent less water than a traditional sprinkler systems, while still offering similar protection, HI-FOG is already more green than any other method. In addition, HI-FOG also uses less electricity and may even help a data center to fulfill their requirements to obtain a green building certificate. "Water Mist as a fire fighting agent is clean (potable water). There are no chemical additives and no toxic by-products." says Henri Simula. "[HI-FOG] is not hazardous to the environment or people."
Better for Electronics
Water can severely damage circuit boards, chips, and connectors, causing them to short circuit and corrode. That is why many data centers do not to use water based systems, but since HI-FOG does not dump water everywhere like a sprinkler, there is a lot less water to damage electronics.
Also, HI FOG systems do not need to be compartmentalized like traditional sprinkler systems, which do not have the cooling power that HI-FOG offers. Traditional sprinklers are activated by heat, so they have a tendency to accidentally discharge during fire, and cause water damage over a larger area. Even a very large hall can be protected with a HI-FOG system.
Safer for Humans
A data center that use HI-FOG technology does not need to be evacuated or closed off during a fire. It is safe for people to enter and exit the area without affecting the efficacy of the system.
Better Space Efficiency
Traditional systems require rigid pipes that are very hard to install. HI-FOG, on the other hand uses malleable tubes that are easy to retrofit in old spaces, newly designed spaces, or even on a single floor of a building. Henri Simula told us how HI-FOG can work with any data center space, "any expansions of the site can be done easily and efficiently just by adding pipes, valves and sprinklers to new areas supported by the original pump-set. This scalability is especially beneficial in modular data centers that are built in phases."
With this system, it is possible to protect any space from fires, large or small. With a central pump, HI-FOG also takes up a lot less floor space.
Long Life Span
HI-FOG is made of high quality components like stainless steel tubes, which ensure that the system will have a longer lifespan than other fire suppression systems used in data centers.
Installation and Maintenance
Marioff provides local field service engineers, who can install or repair a system on-site. They can also train a data center's staff to operate the system, and make sure everyone knows how to properly use the system when it really matters. According to Henri Simula, other services include, "breakdown maintenance, schedules annual services, spare part deliveries, customer operator personnel training, preventive maintenance activities and also system and component level upgrades."
Cleaning up after the Fire
HI-FOG systems do not flood rooms with water, so there is a lot less cleaning that needs to take place.
HI-FOG is the perfect fire suppressant solution for any data center that wants the safest, greenest, and easiest solution–which is every data center. You can find out more about HI-FOG by visiting the Marioff homepage.