Technology is evolving at a rapid pace and your team needs to be learning and staying up-to-date. That's where training comes in, allowing you to upskill your tech team as new technologies or company updates demand. While this can represent a significant investment, it's important to remember that there are other important benefits to training your tech team. Jonathan Hassell, CIO contributor, explains:
"Training increases the value of your technology department and its ability to respond to changing business needs. In many enterprises, IT is no longer just a cost center, a necessary expense on the way to doing business. As the Internet economy emerges, and as big data and analytics continue to transform the way business gets done today, IT needs to become a value center, if not a profit center."
The following ideas ensure that your training is effective, ensuring that employees can keep up with changing technology. When you bring valuable learning opportunities to employees, they'll better themselves and the business at the same time.
Ask What They Want
Your tech team is already seeking out learning opportunities on their own. The
2018 Developer Learning Survey from Developer Academy
found that developers already spend an average of seven hours each week on learning. While this may seem like an ideal situation—they learn, you don't use budget on training—survey authors make an important point:
"On the surface, this model may appear to be a commendable and responsible personal investment on the part of the engineers. More than likely, however, this learning is done on the job, creating technical debt when measured against project plans and software quality."
Instead of losing work time to personal learning, offer training in a formalized setting. Start by asking your employees what they want or need to learn. They'll know the answer to this because they're already doing the work on their own. When the team decides what to learn, they also have a personal stake in the training. This makes them more likely to be engaged while retaining the information.
Another alternative is to allow time at work for special projects related to various training needs. Study authors give the example of Google, who allows developers to spend up to 20 percent of work time on special projects that have been approved by leadership.
Start Mentoring Program
Mentoring is a great way to make sure your tech team is keeping up because it facilitates a few important aspects of training:

Flexibility: Rather than scheduling long, full-day trainings, or going to a conference, employees can learn as they work.
The key to getting the most out this training format is to develop and framework and set specific goals. Without these two elements in place, it's challenging to keep your mentor groups on track and evaluate how successful the program is.
Plan Learning Around Launches
Make learning relevant for your employees by planning training around launches. Your team may already need to learn new tools and techniques to build a new product or service, so use this as a learning opportunity. To make sure your product launch training is as successful as possible, follow these simple guidelines:
Organize your training in phases. Bottom Line Performance recommends pre-launch, launch, post-launch and localization.
Blend your modalities to include gamification, e-learning, videos, and more.
Give Everyone an Annual Conference Pass
One of the best ways to keep up with evolving technology is attending conferences—which are plentiful in the technology industry. If you search for blockchain conferences, for example, you'll find hundreds, both big and small, all around the world.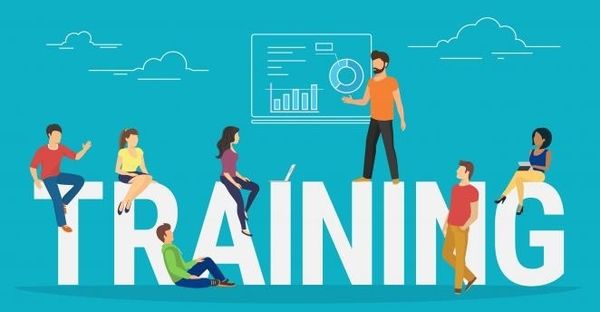 This type of training gives your team a chance to enjoy learning outside of the office, which has a wide range of benefits. Saxons Group, an IT training and services organization, suggests some of those benefits include:
Staff morale; feeling valued by the company

Better focus when away from the office

Higher employee engagement

Networking and knowledge sharing with a much broader audience
In general, the energy of a conference makes this format of training more interesting for many employees. Chris Curran, principal and Chief Technologist for the US firm's Advisory practice, shares:
"You can learn a lot about a new field of technology by going outside your organization. Just being exposed to the energy, enthusiasm, and ideas of the FIRST Robotics Competition was incredible. It also allowed me to meet other mentors, many of whom also work in technology and could be valuable contacts or resources for me."
If you're worried about employees taking advantage, pair every conference with a post-event run-down meeting. After each event, those who attended need to present about what they learned and how it can apply to their role and the company as a whole.
Make Sure Your Tech Team is Keeping Up
Use training to keep your team moving forward and learning new skills as your company evolves with changing technology. Offer an annual conference pass, initiate a mentorship program, or simply offer in-office training based on what your employees want or need to learn. Don't forget to continually measure success to ensure the investment in learning is paying off.