Colocation Locations | Colocation Facilities | Colocation America
Dedicated to providing our clients with the top data centers in North America, Colocation America leverages 22 data centers across California, New York, New Jersey, and Chicago. With five data centers in Los Angeles, one in San Francisco, one in New York, one in New Jersey, and 14 in Chicago. Colocation America is proud of its dynamic locations and premier connectivity.
Our main hubs resides in the following Premium Data Centers in Los Angeles, San Francisco and New York.
Los Angeles Data Centers:
Aon Center : 707 Wilshire Blvd. Los Angeles, CA 90017
One Wilshire: 624 S. Grand Ave. Los Angeles, CA 90017
Digital Realty Trust: 600 W. 7th St. Los Angeles, CA 90017
Quinby Building: 650 S. Grand Ave. Los Angeles, CA 90017
Telecom Center: 530 W. 6th St. Los Angeles, CA 90014
San Francisco Data Centers:
200 Paul Exchange: 200 Paul St. San Francisco, CA 94110
New York Data Centers:
60 Hudson Building: 60 Hudson Ave. New York, NY 10013
New Jersey Data Centers:
100 Delawanna Buiding:100 Delawanna Ave. Clifton, NJ 07014
Chicago Data Centers:
350 E Cermak Rd. Chicago, IL 60616
701 S Lasalle St. Chicago, IL 60605
725 S Wells St. Chicago, IL 60607
427 S Lasalle St. Chicago, IL 60605
717 S Wells St. Chicago, IL 60607
601 W Polk St. Chicago, IL 60607
600 W Chicago Ave Chicago, IL 60654
1331 E Business Center Dr. Mt Prospect, IL 60056
800 E. Business Center Dr. Mt. Prospect, IL 60056
1850 Springer Dr. Lombard, IL 60148
1808 Swift Dr. Oakbrook, IL 60523
360 E 22nd St. Lombard, IL 60148
2425 Busse Rd. Arlington Heights, IL 60005
1905 Lunt Ave. Elk Grove Village, IL 60007

One Wilshire Data Center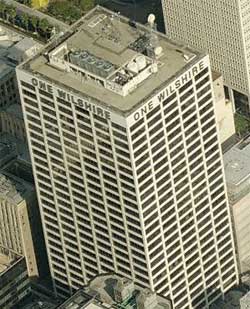 Located in the downtown area of Los Angeles, California, One Wilshire is one of the industry's premier points of interconnection. Originally built in 1966, the colocation facility has been renovated over time to accommodate the needs of telecommunications companies and colocation hosting service providers in respect to electricity, emergency power, cooling and connectivity requirements.
These dramatic changes have enabled media solutions providers, content delivery networks and hosting firms to connect to well over 240 of the world's top carriers.
The One Wilshire Colocation building has transformed from a major switched telecommunications site to a premiere peering hub of the Pacific Rim. Today, it is not only highly regarded as one of the most significant points of connectivity in the Western United States, but throughout the world.
Together with the guidance of One Wilshire building management and other facilities operated by Colocation America, we have helped create over 35,000 square feet of usable data center space. We have efficiently modernized the colocation facilities electrical system and dramatically enhanced security to cater to the fast moving IT revolution. You can find us in the meet-me-room of One Wilshire, the epicenter for global internet and telecom traffic from the Pacific Rim to Central Asia.
More Data Centers in and around Los Angeles
Adjacent to our One Wilshire location, our American Telecom Center offers unrivaled connectivity to East Asia. Security measures, including biometric palm scan authentication and 24/7 manned controls, protect mission-critical projects, while the redundant diesel generators, UPS, and environmental controls keep your operations running at all times. There is no better location than our American Telecom data center for connecting to East Asian in terms of speed and reliability.
Our Quinby Building data center, also located in Los Angeles, directly connects into One Wilshire, which provides clients with superior connectivity to all of the world's ISPs. Leveraging backup diesel generators, 150% maximum AC capacity, and 24/7/365 security, this data center proudly serves all of our clients' needs.
In addition to our location in the AON Center, in our Los Angeles 7th Street mission-critical data center, we proudly boast 450,000 square feet of space that is supported by a premier electrical and HVAC infrastructure. Combined with our expertise in security and uptime management, our 7th Street data center is considered one of the premier facilities on the West Coast.
Data Centers in the United States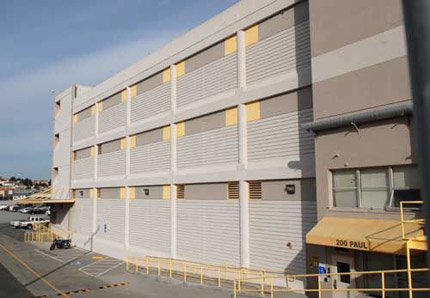 Our San Francisco Data Center is located at the 200 Paul Building, and in New York, we proudly serve our East Coast clients at the 60 Hudson Building.
From all of our data centers in Los Angeles to the ones in New York, New Jersey, Chicago and San Francisco, we are proud to be the esteemed locations that keep our clients thriving.