Full Rack Colocation | Full Cabinet Colocation | Colocation America
Colocation America offers an affordable way for businesses that need the hosting space and security that comes with a full server rack colocation plan. A full server rack gives enough space to fit 42U (units) of servers. It also gives increase security since you no longer have to share your rack with other clients. With a full server rack colocation plan, you have a dedicated rack to host your servers that will stay locked to prevent anyone else from accessing it.
Why Go for Full Rack Colocation?
A full rack colocation plan is the ideal choice for e-businesses or online retailers that have many servers in need of dedicated connections, high bandwidth, and a secure hosting facility. Those that have servers that need to be hosted in a secure environment can benefit from Colocation America's experience in providing quality hosting services to many brand name companies.
We know what it takes to keep your server performing at its best and how important it is for your server to stay up. With our 100% uptime guaranteed and trained support staff, your server will always be up and your customers will always have access to your websites.
Features of a Full Rack Colocation Hosting Plan
Multiple fiber connections to multiple bandwidth carriers
24/7 on-site security and surveillance
24/7 access to our data centers including weekends and holidays
UPS plus backup generator
Expert on-site support for server side issues
Monitoring of server status and performance
Location is Important
We here at Colocation America know that location is everything when it comes to colocation server hosting. It is vastly important that our data centers are centrally located near our clients so that they can have ease of access to their servers when they need it the most. Colcoation America has several premier data center scattered across the nation to give our clients more flexibility in choosing the right data center to host their servers. With dozens of locations, three of which are situated in the downtown Los Angeles area, we can provide you with the best colocation hosting services that is close to your place of business.
Cabinet Pricing
There may well be a wide range of pricing for cabinets, cross connects and power, despite a particular local market. There are countless factors that determine pricing, such as a specific facility location, quality, network density, power density and level of service shall be considered. Altered consumers have very discrete sensitivities to cost, largely based on their expected imprints and power requirements. Those networks with depleted power needs and measly footprints are probably not too much interested with pricing issues.
Server Rack Spotlight:
Hergo Jupiter Colocation Rack Cabinet

Data security is an element that every enterprise should take very seriously if they want to prevent their company from being the target of malevolent virtual bandits looking for a quick buck. For enterprises looking for total data security, privacy, and protection of its networking equipment, the Hergo Jupiter Colocation Rack Cabinet is an excellent solution.
The Hergo Jupiter Colocation Rack comes with two 20U locked compartments for a total of 40U server hosting space. This heavy duty cabinet secures the equipment with two handle or combination lock cabinets. The front door uses a vertically louvered glass window for maximum air circulation while preventing water damages to the equipment. The rear has space for up to three fans to keep the equipment cool.
Rackmount Solutions Air Conditioned Server Cabinet & Soundproof Server Rack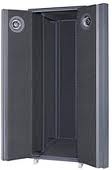 If your networking equipment and standalone applications are too hot to handle, an Air-Conditioned Server Cabinet from Rackmount Solutions can help them chill out. A built-in A/C unit running on 4k, 7k, 10k, or 20k BTUs keeps the temperature down no matter what the conditions are outside. It is capable of dispersing up to 7kW of heat to prevent expensive equipment from overheating. The server cabinet comes in a wide range of design that can store 14U to 48U and is soundproof (reducing up to 28.7 dB).
Rack Solutions Wall Mount Rack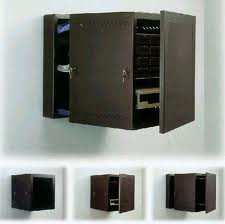 Finding an ideal rack to store a variety of networking equipment can sometimes be a huge hassle in light of the fact that each piece of equipment has its own functionality requirements. The Wall Mount Rack from Rack Solutions helps overcome such difficulties with its spacious all-in-one storage space for network switches, path panels, and servers for up to 400 pounds of lean, mean, network crunching machine.
The Wall Mount Rack can store up to 21U with 9U storage space on the top and bottom, which adds up to a grand total of 39U storage space. It boasts an open storage design which allows for optimal airflow to keep the equipment temperatures down. It also provides an easy cable access for interconnection between the networking equipment housed inside.