Colocation Los Angeles, Data Center In LA | Colocation America
Strategically situated to reach high value West Coast and Pacific Rim audiences, collocating in Los Angeles can put your company ahead of the curve with superior data transfer rates. Whether you are serving consumers, fellow businesses or need very reliable backup in California, Colocation America has over a decade of experience in providing trusted, reliable Los Angeles Data Center services.
Along with our Four (4) other Data Center Locations our primary location is centrally located in the world famous One Wilshire Building is the heart and soul of data centers in Los Angeles, Colocation America has direct access to the leading IP infrastructure providers in the world. As a result, our LA colocation services offers superior data transmission speeds backed up by the most reliable service for enterprise communications, VOIP data, corporate servers, streaming media and any other server need you can imagine.
Los Angeles One Wilshire Data Center
If you're looking to host your servers in a reliable Los Angeles data center for your phone server, e-Commerce site, regulatory compliance, media transfer, data backup or international business needs, then our team has the expertise to exceed your expectations. Our Wilshire data center is ideally located to maximize data transfer rates, and our partnerships with leading backbone providers ensure you the uptime (over 99.99%) with multiple power and cooling paths (hot and cold row) , monitoring our premium bandwidth (over 60% peered) needed to reach your hosting needs to perfection.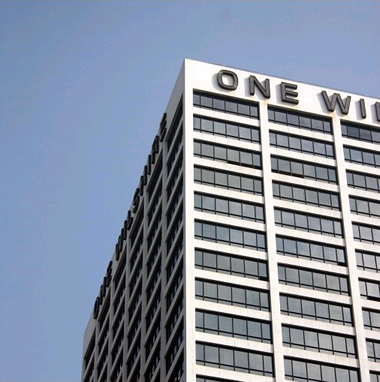 Data security and integrity are our focal point as we have upgraded our Los Angeles colocation data center with redundant physical and data security, emergency backups and virtually unlimited bandwidth transmission through our upstream providers.
By investing in industry standard reliable infrastructure, you can count on our data center in Los Angeles to have multiple power sources (N+2), onsite senior engineers and redundant routing BGP routing (Border Gateway Protocol) to ensure premium data transfer. We offer flexible server setups to meet the very custom needs of your business.
"The Advantages of Colocation America Los Angeles Hosting"
When it comes to selecting Los Angeles colocation, the One Wilshire building is the gold standard of the industry and our engineers have over a decade of experience in ensuring the security, integrity and speed of data transmission.
Working with Colocation America ensures that your business has the following services in one of our data center in Los Angeles:
State of the Art electric and cooling systems, including redundant UPS and diesel generators
24/7 biometric security and extensive professional staff training
Expansive data center space and custom server options
Fast data transmission to the West Coast and Pacific Rim markets
Both our infrastructure and technical engineers are dedicated to helping you realize your secure data transfer goals. We constantly invest in the latest data center technology to provide state of the art connectivity, backups and IP solutions by partnering with leading firms in the industry.
Our One Wilshire location and our Four (4) other Data Center in Los Angeles feature direct access to over 240 of the world's top bandwidth carriers, including the top IP providers in the nation and the world, allowing you to maximize data transmission rates in a secure and stable environment.
Los Angeles Colocation Overview (One Wilshire)
One Wilshire Colocation - 624 S. Grand Ave. Los Angeles, CA 90017
| | |
| --- | --- |
| Data Center Space | Cage-To-Cabinet Colocation |
| Certifications | SAS 70 Type I certified |
| Power Density | Up to 6 KWs per cabinet and higher |
| UPS Power | N+1 and redundant AC/DC UPS power |
| Generator Power | N and 2N emergency generator configuration |
| Data Center Cooling | N+1 cooling system |
| Fire Suppression | Dual-interlock, dry-pipe pre-action fire suppression system with VESDA |
| Data Center Security | 24x7 staffing and site access, mantraps, CCTV surveillance, and biometric access control |
| Data Center Services | 24x7 remote hands and mechanical & electrical monitoring |
| Networks Services | Carrier-neutral access to over 200 networks and service providers through diverse points of entry |
| Los Angeles Peering | Access to Any2, CoreSite's Internet exchange |
| Roof Space | Ample space for antenna towers with line-of-site in several directions |
Data Centers in Los Angeles
624 S. Grand Ave. Los Angeles, CA 90017
707 Wilshire Blvd. Los Angeles, CA 90017
600 W. 7th St. Los Angeles, CA 90017
650 S. Grand Ave. Los Angeles, CA 90017
530 W. 6th St. Los Angeles, CA 90014
Colocation America leverages state of the art data center in Los Angeles for clients looking for reliable hosting services with dedicated support. Colocation in Los Angeles gives businesses the ability to maximize exposure to new markets while lowering the cost of setting up a secure network infrastructure. Los Angeles Colocation offers a variety of services including: colocation hosting, dedicated servers, and VoIP services. Colocation America also provides colocation services near the Los Angeles area including
Colocation Pasadena, 91103
Colocation Glendale, 91201
Colocation Burbank, 91502
Colocation Beverly Hills, 90210
Colocation Culver City, 90230
Colocation Marina Del Rey, 90292
Colocation Santa Monica, 90401
Colocation Studio City, 91602
Colocation Pomona, 91765
Colocation Palmdale, 93550
Colocation Long Beach, 90745
Colocation Santa Clarita, 91321
Colocation West Covina, 91790
Colocation El Monte, 91731
Colocation Alhambra, 91801
Colocation San Diego, 92101