Whether your small business is well established or just taking off, cloud based systems offer you the edge needed in a competitive market. For years, cloud based technology has been talked about as an asset in the marketplace. As it continues to grow, more and more small businesses are finding that their operations are directly benefited from the cloud, for instance the online office suites, cloud storage, and one can even find a complete business phone system hosted on cloud.
Cloud based POS systems are cost effective and safe, making them the new standard of technology for businesses today. Here are just the top five reasons cloud based POS systems should be considered by your small business.
---
Natural Progression with Ultimate Flexibility
Today's market is different than it was just 10 years ago. Businesses of yesterday are known as "mom and pop stores." And while these antiquated shops have their place in society, today's mainstream customers want an integrated experience. They want their social media and loyalty rewards to be one seamless transaction. This offers your business the added benefit of receiving an advertisement through a cloud based POS system as the customer gives added exposure to your business.
Since most small businesses fall under hospitality or retail industries, splitting checks at a restaurant at the table heightens the customer's experience. It allows them to feel confident they are paying for services received and saves your employees valuable time. If a mom needs to pick up her to-go purchase but doesn't want to take all her children in with her or leave them in a car, an employee can bring a POS device out to her with the purchase.
Meanwhile, the ability to have multiple POS devices allows managers and other employees to stay in contact. Vital transactions can be accomplished and inventory tracked while away from the main hardwired POS terminal—even away from the actual brick and mortar store. Because mobile devices are synced up to the cloud, all data is kept in real time—allowing you to access and manage information at any time of the day, from any of your devices.
---
Upgrades Made Easier Than Ever
Because most cloud based systems are based on monthly fees, any vital upgrades to the cloud software is done automatically. If there are updates that need to be downloaded to devices and on-site terminals, it typically only needs to be downloaded to one device and all the others will be updated. This causes less disruption time or the need for employees to come in early to perform the updates.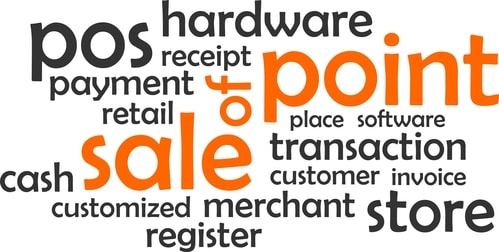 ---
Centralized Management for Multiple Locations
The added flexibility that cloud based systems offer your small business allows you to effectively manage all of your locations using real-time data. Even if you are on vacation, you are still able to oversee your small business performance and make necessary changes from your mobile device. This centralized source of information allows you to effectively communicate with managers between locations and ensure all are on the same page. It also allows your team leaders to access all vital information for ensuring each location is operating with synergy and focus.
Highest Standards for Security
One of the top concerns when cloud based POS systems first hit the scene was their level of security. Developers listened and now offer the highest levels of security in the market. After multiple high profile stores had security breaches in their B & M stores, it is safe to say, cloud based technology adds the competitive upper hand. In cloud based POS, there is no delivered software or server sitting at the POS where credit card or debit card data is stored.It is done in the cloud which limits the scope of security liability and the chance of the breach of credit or debit card, as hackers cannot get to the data; it is not there.
If any data is lost, it is only temporary. Backup systems restore data and even offer encryption as protection from hackers and viruses. Because cloud based POS systems are at the forefront of small business operations, security updates with quick response times decrease the potential risk of credit card breaches.
---
Cost Benefits and Freedom
The cost to operate a cloud computing POS system is highly attractive. Cloud based systems have lower costs associated with them over the traditional hardwired on-site programs. With a multitude of options for providers and services, finding the right cloud based POS system for your small business will put your business at an advantage over competitors.
It is easy to switch providers in this almost flooded market of cloud computing hosts and most will not lock you into a contract. Competitive prices range from around $50-200 a month depending on the services you agree to and the size of your business. Some smaller plans even offer a pay-per-swipe fee. With the ability to upgrade or downsize without breaking a contract makes this freedom an appealing interest for businesses of any size.
As with any investment in your company, researching the right option is done by weighing the risks to the benefits. With cloud based POS solutions, you are reducing risk and increasing profit.
A business's success is directly related to how well it can keep up with the technology surrounding its time. How successful do you want your business to be?
---
Author Bio:
Sheza Gary has been a Project Strategist since 2009 and also involved in the launching of startups and tech companies in New York for over 5 years. She has keen interest in writing her own experiences about business plans and upcoming business supporting technologies. You can also follow me on Twitter @shezagary