Ever see the movie Terminator? Well hopefully that sort of thing never happens…
An Olympic athlete can't run faster than this robot! Meet Boston Dynamics Cheetah Robot. This four legged friend can run the 100 meter dash faster than world record holder Usain Bolt. Just a tick over 28 miles an hour the Cheetah Robot has apparently set a new land speed record for robots with legs. That's a tall order considering that Usain Bolt is the world record holder in the 100 and 200 meter races. The Jamaican sprinter's fastest recorded speed is 27.78, which is super fast. But Cheetah robot has him beat.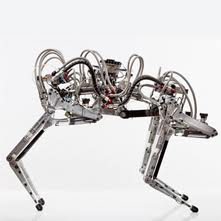 A press release by Boston Dynamic confirmed a top speed of 28.3mph.Throughout testing Cheetah's engineers refined its algorithms by slowly increasing the robots back and leg motions, adding power along the way. Part of Cheetah's success can be attributed to the fact that it is not subjected to a drag coefficient in the lab.
Other performance enhancing features include a remote power supply, which provides Cheetah with some weight savings. Although testing was conducted on an indoor treadmill, Cheetah's engineers were thrilled at the results and hope to up the ante on their next effort. The goal of Boston Dynamics is to create a predecessor that can run fast outdoors without being attached to a leash-like power supply.
What The Future Holds for Cheetah
Cheetahs new and improved brethren is said to be named WildCat and will be ready for time trails early next year. Boston Dynamics built the robot with funding from DARPA (Defense Advanced Research Projects Agency). Engineers have studied the natural movements of real-life animals, and hope to apply what they've learned into future robotics.
Through these efforts DARPA hopes to develop an entire range of robots for deployment of future defense operations. While this might sound like something out of a science-fiction movie, the results of Cheetahs record breaking capabilities are real and could one day save lives and contribute to our nations safety.
Boston Dynamics is specialized in advanced robotic development specifically for outdoor terrain. MIT was the first to pioneer such an effort. Can't wait to see what's next. Hopefully this doesn't turn into a Terminator 2 scenario, because that would definitely not be good!