Class 4 Softswitch
Class 4 softswitch is used to route VoIP telephone calls to international destinations using an IP network. A Class 4 softswitch connects with a local Class 5 softswitch to send the calls through international channels before connecting with another Class 5 to complete the call. Colocation America provides a scalable, high performance Class 4 softswitch that is capable of delivering VoIP traffic and VoIP services over a multitude of IP networks across the globe. VoIP carriers and international corporations that are looking for a powerful and robust routing switch that can deliver carrier grade VoIP services would benefit the most from a dedicated Class 4 softswitch hosted by Colocation America.
Features of a Class 4 Softswitch:
Intelligent Call Routing – Uses sophisticated algorithms to reduce cost, latency, congestion, and to improve the overall quality of VoIP calls.
Easy-To-Use User Interface – Provides a simple user interface for local or remote control management of maintenance, configuration, monitoring resources, software updates, firewall management, etc. Choose between a web based GUI or a command line interface.
VoIP Billing Software – Keeps track of user's account information and minutes used.
Billing Interface – Overview of services provided including Call Data Records (CDRs).
External Routing APIs – Fully control routing through the use of applications with an integrated SVI in the existing infrastructure.
Security Features – Integrated Firewall, password and user name protection, secure external protocols, and reports of any unauthorized access.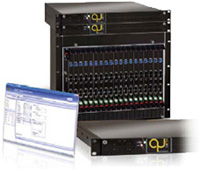 A Traditional Class 4 Switch
More commonly known as a Tandem telephone switch, a class 4 connects class 5 switches to a larger network. It is a telephone central office switch used to connect the end offices of telephone service networks together. Class 4 switches can only deal with high-speed digital four-wire connections. Lucent and Nortel are the top manufacturers of equipment used for class 4 switches. For VoIP providers, a Class 4 Softswitch can replicate what a traditional class 4 switch does for landline telephone calls. Colocation America provides a high performance VoIP server for the both carrier and enterprise markets capable of handling the installation of a Class 4 Softswitch. The softswitch secures the delivery of VoIP traffic or services over multiple IP networks and includes full component redundancy.
Types of Class 4 Switch
There are two types of connections for a class 4 switch. One is called a sector, or local tandem, which is used to interconnect to the traffic between class 5 switches within a local access and transport area (LATA). For example, a call is placed from California to New York. The call travels through the class 5 switches and find out that it cannot access the New York phone number through that network. It then connects to a class 4 switch which allows it to connect to another class 4 switch in New York. It then again connects to a class 5 switch in the local area the phone number is located to complete the call.

Another type of connection for a class 4 switch is called an access tandem switch. This is when a class 4 switch connects to a long-distance telephone company, also known as an Interexchange carrier (IXCs). Much like a local tandem, the same process is repeated but the call travels overseas through the point of presence (PoP) provided by an IXC. It then gains access to the class 4 switches in other countries and can interconnect to the one it needs to reach. For a free consultation and a customized VoIP solution for your business, please give us a call at 1-888-505-COLO or send us an e-mail to [email protected]. You can also check out our VoIP dedicated server hosting plans and VoIP colocation hosting plans.